The Blob
(Chuck Russell 1988) Trash rating
Chuck Russell made his directorial debut with
A Nightmare on Elm Street 3: Dream Warriors
(1987) the most imaginative, and best of the series. He's made a total of six films in all, most successfully
The Mask
(1994) starring Jim Carey, but also the Schwarzenegger vehicle
Eraser
(1996), and
The Scorpion King
(2002) starring 'The Rock'. He followed up his Krueger installment with
The Blob
, a remake of the 1958 cult (but hardly classic) film of the same title directed by Irvin S. Yeaworth Jr. A film that besides its hokey premise, was only notable for the fact that it was Steve McQueen's first starring role. Russell wrote the screenplay for his remake along with Frank Darabont who has since scripted
The Shawshank Redemption
(1994) and
The Green Mile
(1999) no less. The film loosley sticks to Theodore Simpson and Kay Linaker's original screenplay, all be it with added 1980's gusto and splatter.
The Blob
begins with a tramp who on witnessing a meteorite landing in woodland, investigates the crater with his dog. Foolishly he decides to prod what's left of the rock with a stick, and before you know it, the slimey gunk has lept onto his hand. Enter Brian Flagg (Kevin Dillon) our motorbike riding antihero, who also saw the landing, and tries to help the old timer. When the stuff (which is growing) wont come off, he takes him to the hospital aided by love interest Meg (Shawnee Smith) and Paul (Donovan Leitch). Naturally the doctors prove useless, and soon the blob has quadrupled in size consuming everything in sight (including Paul). Off go Brian and Meg to warn the townsfolk who of course don't listen (Brian's none too popular with the local law enforcement) until the goo is the size of a house. Next thing you know, there's a bunch of sinister army scientists on the scene led by evil Dr. Meddows (Joe Senaca) complete with biohazard suits and machine guns. Far from being saviours, the military once again turn out to have their own morally dubious agenda. It's left to Brian and Meg to save the day before the blob eats everything in sight, a task aided by their discovery that it doesn't like the cold.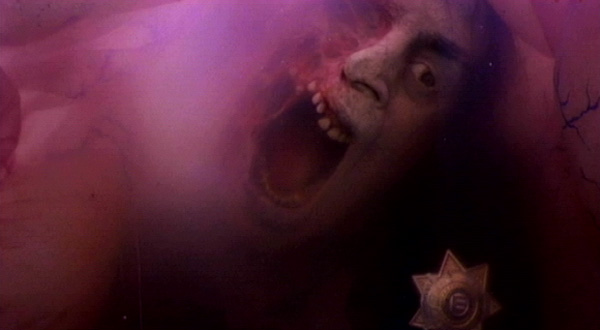 The Blob
is bafflingly underrated stuff, that's been largely overlooked and sadly forgotten by many. Certainly better than the original film, Russell's remake has a great sense of fun, is well paced, and has some eye popping special effects. The b-movie cast is great too, with the likes of Art LaFleur as Mr. Penny, Candy Clark as Fran, and Jeffrey DeMunn as Sherriff Geller. Russell clearly knows what the audience wants from this type of fare, and provides it in spades. The film has some neat in jokes, not the least the sequence with a couple in a car stalked by a masked killer. Before you can scratch your head in puzzlement, the camera pans out revealing everyone in a cinema. Other highlights include the sink plunging sequence, a kid (anyone is fair game in this movie) devoured in the sewers, and said cinema audience who get the full horror treatment. Perhaps my only criticism would be the casting of Kevin Dillon (brother of Matt, best known for cracking Vietnamese heads in Oliver Stone's
Platoon
1986) who's way too obnoxious, and not at all convincing as a hero. Overall though
The Blob
is a well made entertaining nod to 50's monster movies well worth rediscovering.
Last edited by Used Future; 06-04-09 at

06:55 PM

.