The Ox Bow Incident
A Hollywood classic that lives up to its reputation, 1942's
The Ox Bow Incident
is a sizzling indictment on the concept of justice and how mob mentality can mangle that concept beyond recognition. This film not only lived up to its reputation, but was a clear influence on future Hollywood classics as well.
Cowboys Gil Carter (Henry Fonda) and Art Croft (Harry Morgan) are passing through a small town when they learn that three cattle rustlers are the primary suspects in the murder of a local farmer. Carter and Croft find themselves caught up as the townspeople immediately organize a posse to capture the trio. However, the men in the posse as well as those who stay behind, are sharply divided as to whether to bring these guys back to town for a proper trial or to find them and lynch them on sight.
This 1942 Oscar nominee for Best Picture (the only nomination the film received) is anchored by Lamar Trotti's economic and sensitive screenplay, based on a novel by Walter Clark, that doesn't waste a lot of time with exposition and gets right to the matter at hand. It's squirm worthy as we watch Carter get caught up in the middle of this witch hunt, without any proof of what's going on, but still agreeing to be sworn in as a deputy and make the ride to capture the criminals. I was intrigued when the posse was asked to raise their hands to be deputized, the only man who didn't raise his hand was the local minister, but he takes the fateful ride anyway.
It's when the criminals are caught that the insanity of what is going on here begins to kick in. First of all, why would three men who have just committed murder be calmly sleeping outside in the open for everyone to see? Not to mention that there is nothing in their behavior when they realize what is happening that implies their guilt, though they seem to accept what's happening to them and plan to die with dignity, their heads held high. The story further aggravates because the evidence against these men is damning, but it is also circumstantial, but no one in the story seems to care about that. Even the men who want them brought back alive for trial don't seem interested in their guilt or innocence.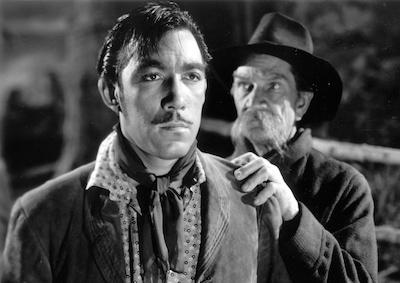 This movie reminded a lot of the 1957 classic
Twelve Angry Men
, which also starred Fonda, as a lone juror trying to convince the other eleven jurors that the defendant isn't guilty. There's a scene right before final action is taken where the men who want the criminals to be taken back alive for trial are asked to stand on one side of the area, away from the rest of the posse. Sadly, not even half of the posse step to the other side.
William A, William, who directed the original
A Star is Born
provides moody and atmospheric direction that makes this story riveting. He also gets first rate performances from Fonda and from Dana Andrews and Anthony Quinn as two of the accused killers. Anyway you slice it, required viewing for all classic film buffs.
Last edited by Gideon58; 3 weeks ago at

12:47 PM

.