Honorable Mentions Part 1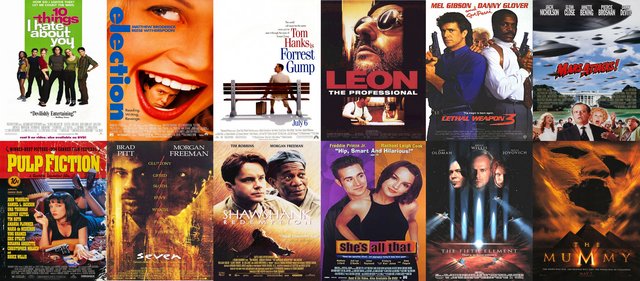 10 Things I Hate About You (1999)
Election (1999)
Forrest Gump (1994)
Leon: The Professional (1994)
Lethal Weapon 3 (1992)
Mars Attacks! (1996)
Pulp Fiction (1994)
Seven (1995)
Shawshank Redemption (1994)
She's All That (1999)
The Fifth Element (1997)
The Mummy (1999)
Honorable Mentions Part 2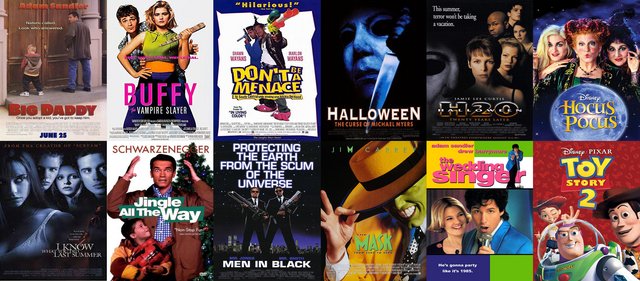 Big Daddy (1999)
Buffy the Vampire Slayer (1992)
Don't Be a Menace to South Central (1996)
Halloween: The Curse of Michael Myers (1995)
Halloween H20: 20 Years Later (1998)
Hocus Pocus (1993)
I Know What You Did Last Summer (1997)
Jingle All The Way (1996)
Men in Black (1997)
The Mask (1994)
The Wedding Singer (1998)
Toy Story 2 (1999)
Honorable Mentions Part 3
3 Ninjas (1992)
Ace Ventura: When Nature Calls (1995)
Austin Powers: International Man of Mystery (1997)
Batman Returns (1992)
Beverly Hills Cop 3 (1994)
Die Hard 2 (1990)
Donnie Brasco (1997)
Friday (1995)
Home Alone (1990)
Home Alone 2: Lost in New York (1992)
Little Giants (1994)
Mortal Kombat (1995)
No Escape (1994)
The Lion King (1994)
The Lost World: Jurassic Park (1997)
The Nightmare Before Christmas (1993)
The Sandlot (1993)
The World Is Not Enough (1999)
The 90's decade was a fun experience for films, especially when I grew up with them. I hope you all enjoyed my 30 favorite 90's Movies thread.
Next up, I'll be doing a favorite 2000's movies list, this is going to be an interesting one to do.
Out of the honorable mentions that I'd include in my own 30 favourite 90s movies would be :
Election (1999)
Leon : the Professional (1994)
Pulp Fiction (1994)
Se7en (1995)
Out of your favourite 30, these would be in mine as well :
Heat (1995)
Jurassic Park (1993)
Saving Private Ryan (1998)
Goodfellas (1990)
Terminator 2 : Judgement Day (1991)
Groundhog Day (1993)
From your unedited '50' favourites :
Fargo (1996)
Speed (1994)
The Silence of the Lambs (1991)
Fight Club (1999)
There'd be some others probably, but I'd have to line all the 90s movies up to see which ones get squeezed out. But a lot of great films in this thread.