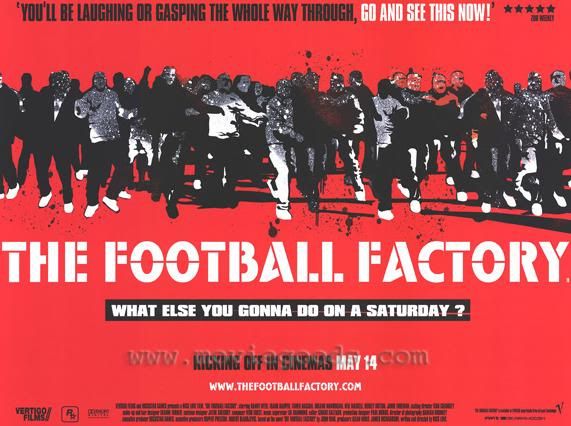 The Football Factory (2004)
Directed by: Nick Love
Written by: Nick Love and John King
So being an American it is hard for me to grasp the point of these football organizations or firms I believe they called themselves, also what is even more mind blowing to me is that these firms or whatever they are called actually exist to some extent, not saying that this movie is a documentary. I watched Green Street Hooligans a while back and when I started this film I immediately was reminded of it, the main difference in my opinion was Green Street Hooligans was more of a youthful thing whereas The Football Factory is more grown up and older people that are involved in these "firms". As I said I am American so if I am getting this wrong that they really exist just let me know and I will correct my mistake.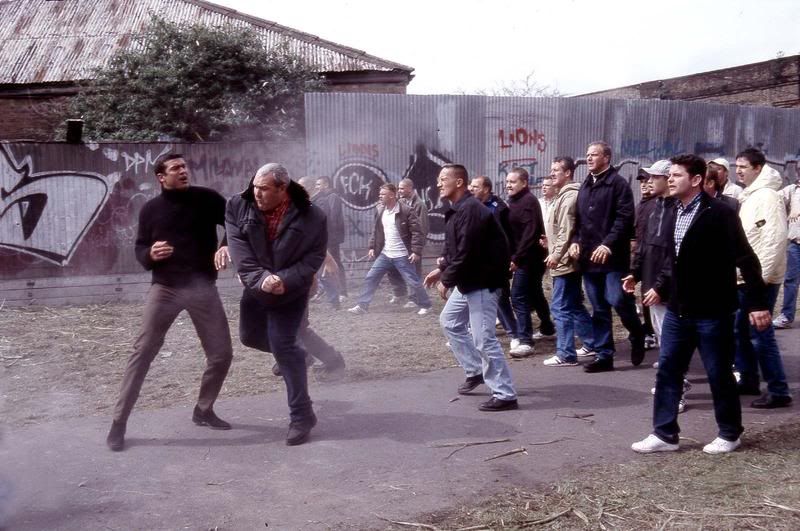 I am a big fan of Danny Dyer who plays the main character who is going through something big in his life, everyone telling him that he needs to grow up and stop kicking peoples face's in. Dyer's character starts thinking he is having some kind of breakdown because he starts seeing things on TV and Billboards that he thinks are talking directly about him, also he keeps having the same nightmare over and over where he is the one getting kicked in the face. The movie is basically building up to the big match between their team (it never sais exactly where this takes place so I have no idea) and their arch rivals, basically planning how they are going to beat the piss out of the other people that really is what this movie is about. There is a sad kind of side story about Dyer's grandfather and his best friend, they had went through WWII together and bean best friends ever since. They have plans to move to Australia and live out there few remaining days drinking and enjoying the girls in bikinis. This was a good movie but just boggled my mind that people would actually go through all the trouble just to beat the crap out of another group of people over a football match, still I suggest if you have not seen this then you should watch it.
I'm American as well but I've been to London a few times and have met some people in the " firms " . There really is no age limit. Of course, when you go to a soccer match to fight you better be in shape. And believe me when I tell you, they do take their soccer seriously. Having said that, it's not confined to England. In East Europe there are some fan clubs that make English ones look like boyscouts.