The Curious Case of Benjamin Button (2008)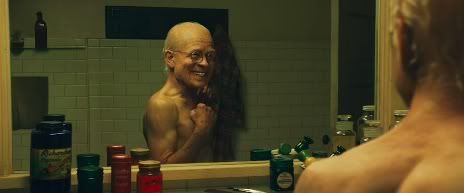 David Fincher never ceases to amaze me, it seems he's done every type of genre. He's left inmates to tackle an alien in
Alien 3
. Shown us how paranoid some people can be with
Panic Room
. He's even done something we can't talk about with
Fight Club
. Then, he comes along with
The Curious Case of Benjamin Button
and continues to keep moviegoers in curiosity.
The look of
Button
is quite breathtaking. Obviously, I'm not the only one who thought so, I mean, it DID win an a measly Oscar. However, great movies aren't built on visuals alone. Those that are, are merely popcorn flicks.
Button
doesn't fall entirely flat in its story, but rather stalls somewhere in the middle. Brad Pitt and Cate Blanchett do what they can with what they have, but in the end, their performances alone can't help the film. That's not to say that the film is bad, it just idles in areas where the story should be moving a little faster than at other times.
With that said,
Button
does not follow a particular movie formula. It can be said that it's an entirely different type of film, one where you wonder what will happen next seeing as how the film progresses in an entirely different direction than any other film.
"Did I ever tell you that I was struck by lightning seven times?"
__________________
"I was walking down the street with my friend and he said, "I hear music", as if there is any other way you can take it in. You're not special, that's how I receive it too. I tried to taste it but it did not work." - Mitch Hedberg