Frances Ha
My respect for the work of Noah Baumbach (
The Squid and the Whale
,
Margot at the Wedding
) and my respect for Greta Gerwig's film
Lady Bird
motivated my finally sitting down to watch an odd little character study called
Frances Ha
, a film that has seems to have developed a sort of cult following, but I'm at a loss as to exactly why.
Baumbach and Gerwig were the co-screenwriters of this peek into the life of Frances, if you want to call it a life. Frances lives in an apartment with her best friend, Sophie, until Sophie impulsively moves to Japan with her fiancee. She then moves in with a couple of guys (Adam Driver, Michael Zegen) who she wants to have a relationship with but doesn't. She is an apprentice for a dance company because she thinks she's a dancer, but not really. She goes to a dinner party and meets guests there who live in Paris and she decides to fly to Paris for two days, costing her the little bit of savings she has and ends up working as a waitress, which she also hates.
Baumbach and Gerwig have always worked off the cinematic beaten path but the path completely disappears...there is the idea of a good movie here I think. I understand that this is more of a character story than a plot-driven story, but the constantly dizzying contradictions that comprise Frances' life grow tiresome pretty quickly.
People who are really good at what they do or really successful at what they do usually have a passion for it and Frances doesn't really have a passion for anything. When people ask Frances what she does for a living (which seems to be her least favorite question to answer), she says she's a dancer, but every time the director of the dance company where she works (Charlotte D'Ambroise) offers her studio time and space for her own work. she makes an excuse as to why she's not interested. When actually offered a job at the company near the end of the film, she actually gets angry.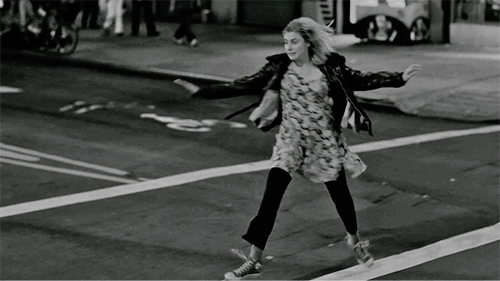 Baumbach and Gerwig work very hard, perhaps a little too hard at making Frances quirky and cute. It's funny when she goes to her mailbox and is overjoyed to learn that she's received a tax rebate and asks Driver's character to have dinner with her and when the check comes, she discovers she has no cash on her. We then have to watch her jog 46 blocks to an ATM...that's entertainment? Driver provides the few really entertaining moments the film has and it is beautifully photographed in black and white, but the whole thing just seems pointless.
Last edited by Gideon58; 06-04-20 at

08:30 PM

.