in
Coeurs
aka
Private Fears in Public Places
] (Alain Resnais, 2006)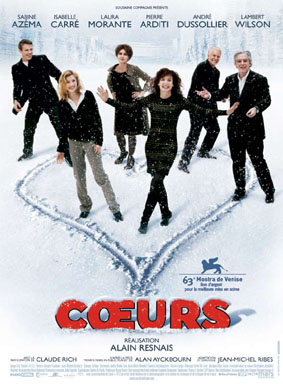 This most recent Alain Resnais film, released when he was 84, was on TV today so I rewatched it. He does have a film coming out this year in France. This is an adaptation of Alan Ayckbourn's 2004 play
Private Fears in Public Places
, transplanted from England to Paris. It follows six people whose lives intersect, but the common thread seems to be the inability to find love or, perhaps more to the point, the lack of communication between loved ones over an extended period of time. All the characters in the film have either lost loved ones or are in the process of breaking up, trying to start over or maybe even trying to communicate with others in baffling ways.
For example, a major character, played by Sabine Azéma, is a devout Christian who tries to cheer up her coworker at a property rental agency, played by André Dussollier, by giving him VHS tapes of a TV show where personalities share their most-inspiring religious songs. The strange thing about these tapes is that somewhere before the show ends, what appears to be a homemade tape comes on showing what seems to be the Christian woman stripping (we can't see above her neck). There are several other offbeat tangents which the film pursues, so I'll let those be for now, at least until someone whats to discuss the film.
As far as Resnais' style is concerned, this film is far different than his earlier films in that he basically tells the story straightforwardly. He only uses one idiosyncratic editing technique throughout, and that's the superimposition of snow falling when he cuts from one story to the next. I can only recall two times where he edited between stories without the snow, and I haven't quite convinced myself that it may have been because there was a 98.6 degree connection between those scenes or characters. I'm not really sure if the snow connotes the coldness with which the characters struggle to find any human contact or warmth in their lives. The snow is actually seen to be falling on two characters having an indoor conversation during one of the more touching scenes near the end of the film. Watch it and tell me what you think it means and what the theme is.