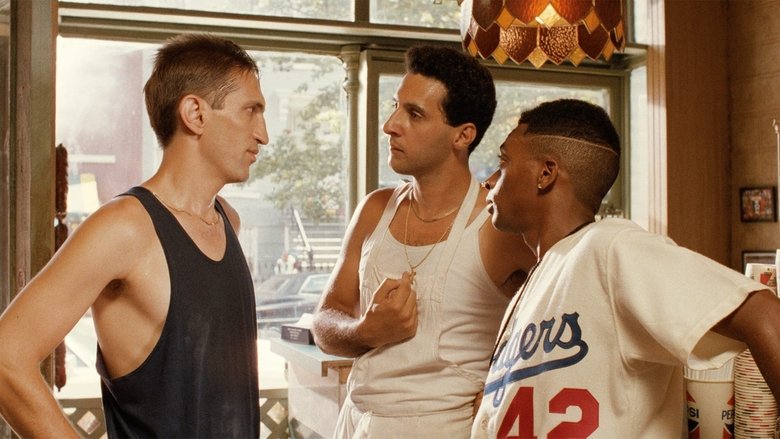 in
Do the Right Thing
(Spike Lee, 1989)
I put up a quote earlier this week where Spike said something along the lines that critics give filmmakers too much credit for things they never intended to be in their films. Spike was still a pretty immature filmmaker and human being, at least in my opinion, when he made this, his third feature film, but it stands out to me as even better than I originally thought almost 20 years ago. Maybe it's an accident or maybe Spike was a Baby Genius, but either way, this film is much more complex, in far more many ways than even its champions thought in 1989. First off, there's Spike's screenplay. It seems to be something comparable to a 1930s/1940s play about urban America. It's set in Brooklyn's Bedford-Stuyvesant, so it incorportes plenty of big-city stories, but it also seems to tell very small stories, almost along the lines of Thornton Wilder's
Our Town
. Most all of the characters in the film live out in the streets and they all watch, observe and look out for each other.
Most of the inhabitants of Bed-Stuy are black, but they also seem to gravitate toward Italian-American Sal's (Danny Aiello's) pizzeria. Sal employs his older son Pino (John Turturro) who is a blatant racist and his younger son Vito (Richard Edson) who doesn't believe in racism. It's an unanswered question in the film, but how could such a good man as Sal raise a racist son? On the other hand, there are some local blacks who don't like the fact that Sal loves to populate his wall with Italian-Americans, and Buggin' Out (Giancalo Esposito) basically calls Sal a racist for not having any Brothers on the wall. Another major character is Sal's pizza deliverer Mookie (Spike Lee), who ends up being perhaps the most important character in the film. Mookie only seems to care about getting paid. True, he has a young son he fathered with a Puerto Rican woman (Rosie Perez), but Mookie does very little to support his family. Mookie is in fact sponging off his younger sister (Joie Lee) for his living arrangements, yet he has the audacity to give her "big-brother" lectures.
I haven't even gotten into Lee's color theme and musical accompaniment for the flick.
Do The Right Thing
is supposed to take place during the hottest day of the year. Lee uses red filters during the entire film, and although they usually imply that it's really hot, near the end of the film, the red filters imply that it's not only climatically hot, but that everyone in the neighborhood is really hot under the collar and fire just naturally erupts. The score, as with most of Spike's early films, is credited to his father Bill Lee, and although most of it is highly reminiscent of Aaron Copland in the 1940s (another homage to the classical theatricality of the film), it's also suffused with Bill Lee's natural inclination toward late 20th-century jazz. By the time this film reaches its climax, most viewers should be well aware that they have seen a complex film about a complex subject, and I, for one, do not find it racist at all, from any of the possible "racist" angles. I feel a little bit stupid that I haven't mentioned the following characters yet: Da Mayor (Ossie Davis), Sister Mother (Ruby Dee), Radio Raheem (Bill Nunn) ["Fight the Power"], the wisdom-spouting triumverate chorus sitting opposite of Sal's pizzeria, the Korean convenience store couple who refuse to stock Miller High-Life, the two local racist cops, the four kids who love to debate but still love to get a slice at Sal's, etc. Tell me what you think of the film when you see it.