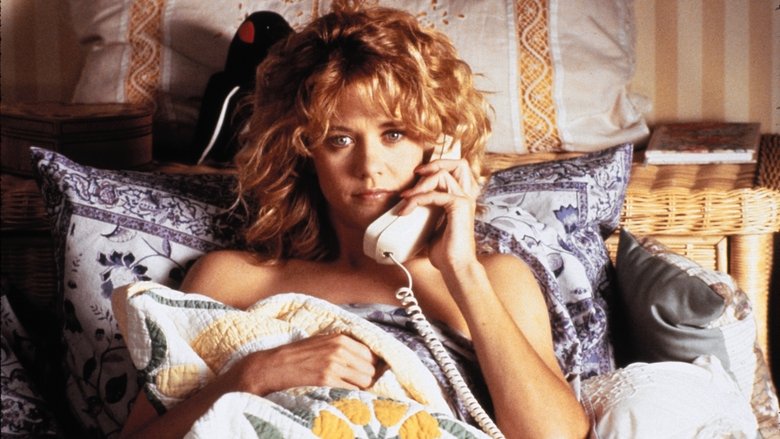 in
#189 - When Harry Met Sally...
Rob Reiner, 1989
Follows the titular characters as they initially dislike each other but soon form an intense friendship over the years.
Maybe it's because it's been imitated to death since its release. Maybe it's because I'm at a point in my own personal development where I find the characters and their conflicts uninteresting rather than relatable. Maybe it's because the film's emphasis on fast-talking neurosis in a New York setting reminded me of a certain acclaimed filmmaker whose work does very little for me. Maybe I just don't find it funny. In any case, I actually did not like
When Harry Met Sally...
. It's hard to place how I almost never found it genuinely amusing. This was the work of a director who had made at least two of my all-time favourite comedies (one of which also features Billy Crystal), but while those were deliberate parodies of long-standing genres (music documentary and swashbuckler respectively), this is an underwhelmingly straightforward romantic comedy. Not even the few curveballs that the film throws, such as the various interludes where old married couples recount how they first met, do anything to cover for the fact that, widespread influence or not, this is still a painfully generic excuse for a romantic comedy. It's times like these where my attempt to review a film becomes less an attempt to inform an audience about a film and more a way for me to process the film and articulate just why I felt the way I did about it. A rather selfish way to think of it, but if that's what it takes...
I've found Billy Crystal quite funny in other films, but here his talkative yet depressive Harry doesn't prove amusing or endearing no matter how many nihilistic one-liners he might spout off. Meg Ryan isn't any better as the incredibly prim and proper Sally who is in her own way just as neurotic as Harry. It doesn't help that the film's reputation virtually guarantees that there won't be any significant conflict between these two over the course of the film Other characters aren't much better - about the only other characters who get any remotely significant development are their best friends (Bruno Kirby and Carrie Fisher respectively) and even then there's barely any development for their talent to even try to carry. Of unfortunate note are the facts that the direction is bland and that the score consisting of relentless smooth jazz tunes (some with vocals, some without) does little to help matters. When I give a film one-and-a-half rating it usually means that I don't care at all about what's going on with the characters or the conflicts in the narrative.
When Harry Met Sally...
definitely feels that inconsequential, which is disappointing considering that it takes place over the course of a decade and wraps up in a mere ninety minutes or so. It jut sort of exists and proves extremely disengaging. Normally, a film full of relentless screwball banter should appeal to my sensibilities but here it just comes across as obnoxious and uninteresting. Maybe if I get to the point where all I care about is whether I'm married or divorced or whatever then I'll probably try to give this film a second chance, but until then, I'm just going to be disappointed.