I found one Topic about Giallo but it was incomplete. I hope it's ok to write a new Topic about it
- - - - - - - - -

I advise you to listen this music by Bruno Nicolai to read this Topic (this is my favorite theme of a Giallo movie), to be... in the "Yellow mood".
Firstly, I wanted to introduce the Giallo by speaking of the History, the directors and the actors/actresses. But I think it won't be necessary. You can see all the information on wikipedia or internet.
But I made once a kind of personal classification of narrations in the Giallo :
A Few Words About Narrations

Elements of a plot :
A city (Rome, London, Venice... even New-York in
The New-York Ripper
) - a hero (often a stranger which is involved in a murder story despite himself) - murders - a murderer with a "look" (hat, gloves, knife, coat) - a whodunit - false twists and suspects - a final twist with a revelation
Narration infinite :
A pic to describe this kind of narration
For instance, the movie
I Tutti Colori Del Buio
by S. MARTINO : a dream into a dream into a dream... (like in the seventh film of
Freddy
) There is a méli-mélo between dream and reality. The audience is often lost, there's an oniric atmosphere.
All The Colors of The Dark with Edwige Fenech

Narration puzzle :
La Corta Notte Della Bambole Di Vetro
by A. LADO,
Sette Notte In Nero
by L. FULCI,
L'Uomo Senza Memoria
by D. TESSARI : a man, a woman have visions (from the past... from the future...) and he has to recreate a puzzle in his/her mind to understand who they are, what happens and who killed X or Y.
The Psychic
with Jenifer O'Neil
Giallo machination & Giallo psycho killer :
Giallo machination --> stories about inheritance, manipulations... (early Gialli :
The Girl Who Knew Too Much
,
Sei Donne Per l'Assassino
, both by M. BAVA)
Giallo psycho killer --> stories about an insane killer who had a trauma when he/she (don't be sexist
) was a child (not a very deep psychoanalysis : "Aaah! I killed them because I hate my mother!") - Films by D. ARGENTO
Blow Up model :
Blow Up
influenced a lot of Gialli (
Profondo Rosso
is the best example, of course). A man/a woman doesn't see very well the reality, a piece of art, a picture... and interpret it in a bad way (
The Bird With The Plumage Crystal
), he/she has a partial vision of the reality.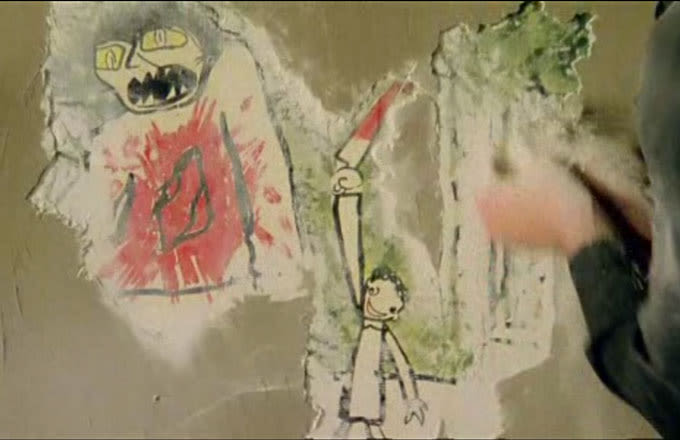 Blow Up and Deep Red, both with David Hemmings

About The Style (A Few Tendencies)

Stylization :
A colored world with psychedelic effects from the seventies, a violence stylized (a graphic violence), eroticized filmed with (sometimes) crazy camera in movement. A murder is like a sexual act : it expresses a rape fantasy. There are an important work on the lights. M. BAVA was very talented (he was director of photo) and he influenced D. ARGENTO. It's a kind of colored expressionism.
Blood and Black Lace
but unfortunately, it's hard to find a good copy of the film
Eros & Thanatos :
The sex is very important in the Giallo like I said in "Stylization". I think if the Giallo was a sexual deviance, it will be fetishism because the world of Giallo is concentrated on items (knife, hat, coat, phones, shoes, art, leather...) which are leitmotivs.
The title of films are very in a "fetishist" way, like :
Death Walks On High Heels
,
Cat O'Nine Tails
,
Hatchet For The Honeymoon
,
Knife Of Ice
,
Seven Blood-Stained Orchids
... The Giallo evokes the synesthesia.
Fetishism if often linked to sado-masochism which has an important part in the Giallo (the best example is in
The Strange Vice of Mrs. Wardh
) because sado-masochism mixes sex and violence.
Of course, homosexuality (only between women) is present but for commercial reasons. Pedophilia is suggested in
Don't Torture A Duckling
or in
My Dear Killer
.
Psychoanalysis :
The psychoanalysis is not very deep in the Gialli, it's a kind of psychoanalysis from the supermarket (trauma) but we can make the psychoanalytic portrait of Italy with this kind of film : Italy was very catholic, conservative and prude in the 60's and 70's. Gialli and other exploitation films can express a kind of "dark side" of the Italy ("Years of Lead").
I watched once (very) a stupid mondofilm
Sweden : Heaven and Hell
which shows how Italy was reactionary : it's more a portrait of a conservative Italy ("Oh a condom distributor, what a decadent country!"). At the same time, it's a very hypocritical film because they show naked women and the voice over says "It's a shaaame!"
The atmosphere of the Giallo is often unhealthy because there's a puerile aspect.
Music :
Just a few words about the music... I love the music of Gialli. It's often very easy-listening, sometimes experimental. Morricone composed for around 500 films but the History retained his work for
Once Upon A Time In The West
,
Mission
,
Fear Over The City
,
The Working Class Goes To Heaven
, ETC. But he made a lot of great scores for the Gialli.
Bruno Nicolai, Riz Ortolani, Nora Orlando, Stelvio Cipriani, ETC made excellent stuff too.
What Have You Done To Solange? By Ennio Morricone


Dies Irae from The Strange Vice of Mrs. Wardh by Nora Orlandi


Tenebre by The Goblin


Influences :
We quote Hitchcock as one of the most important influence in the Giallo but there are also :
- The British murder mystery (E. Wallace, A. Christie...)
- The German Krimi (Alfred Vohrer, Harald Reinl...)
I haven't seen Krimis yet but I have a few ones on my computer. One of my favorite actor, Klaus Kinski, played in Krimis.
Giallo influenced slashers (
Reazione A Catena
by Mario Bava influenced Friday 13th)
- - - - - - - - -

I think I've seen around 60/70 Gialli. Jeez, I lost a lot of time by watching all these bad films! Yeah, let's tell the truth : most of them are bad, but they have a kind of charm (I'm in love with Italian cinema and in the seventies, so...
)
It's very hard to me to list in Top but
my fav are
:
What Have You Done To Solange?
(M. DALLAMANO),
The Red Queen Kills Seven Times
(E. MIRAGLIA),
The Psychic
,
Don't Torture A Duckling
,
The New-York Ripper
(L. FULCI),
The Strange Vice Of Mrs. Wardh
,
All The Colors Of The Dark
(S. MARTINO),
Who Saw Her Die?
(A. LADO),
The Bird With The Plumage Crystal
,
Deep Red
,
Tenebre
,
Phenomena
(D. ARGENTO),
A Bay Of Blood
,
Blood and Black Lace
(M. BAVA),
My Dear Killer
(T. VALERII)
I think one of the worst Giallo ever is
French Sex Murders
(with the Italian double of Humphrey Bogart). And
Slaughter Hotel
.
And you? Do you know the Giallo? What are your favorite films? Your Top? Your favorite soundtracks? Your favorite directors? What do you like in these films?
I hope you liked to read this Topic