Butch Cassidy and The Sundance Kid - 1969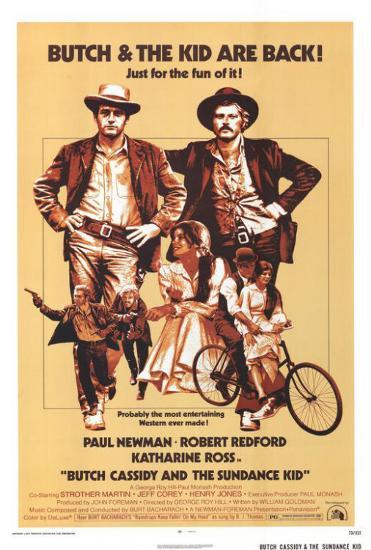 Not quite what I was expecting after watching some other Westerns from this time period. You can tell why Newman and Redford were such big stars. Their charisma oozes out of the scenes in this movie, especially Newman.
It's crazy you watch all these old westerns and old movies from this time and you expected them to have a certain feel to them. This movie is unique because it almost feels like a modern movie with how the script was written, it was acted and how it was shot. Minus a few shots in the film it feels like it could have came out yesterday. It was written with a lot of comedy placed in it. I smiled many times during the flick. Newman is so damn likable. Also it's eerie how much young Redford looks, moves and talks like Brad Pitt. It was a weird experience watching it expecting something else.
The story itself could have maybe used some better pacing. It's a fascinating story but about the pace felt off to me I don't know. It's a great flick but again I feel like it could be improve upon with the right people remaking it. But it certainly had to have been a shock for audiences at the time. Almost like looking into the future.
I'd give it 3.7 out of 5.
__________________
I came here to do two things, drink some beer and kick some ass, looks like we are almost outta beer - Dazed and Confused