The great dictator (1940)
I know that this film was one of my Grandfathers favourites and that my own Father also was also a fan.
I have never seen it before (apart from the speech) but realise that Charlie Chaplin is held in such high esteem by so many people. I cannot recall seeing much of his work before, whilst always being aware of it's status.
I am so glad that this film was nominated and that I have now watched it.
What I appreciated
The Comedy
- This film was funny in so many ways. It is however important to say at this point that I don't find anything about Hitler or the Nazi party funny at all, but this is more about the way that Chaplin set's about trying to undermine Hitler. The film was released in 1940 and Chaplin later said that if he had realised the full horrors of Hitler and the Nazis, he wouldn't have considered it funny, and that he wouldn't have made the film The slapstick, the dialogue and the situational comedy,was all very funny. It was subtle and times and blatant at others, sometimes it was simple and other times it was really quite intelligent. I really appreciated the humour within this film, it was really well done and was present throughout.
The message
- This is a really ballsy film and had a huge impact in many ways upon it's release. Chaplin is openly mocking Hitler in this film, but it is worth acknowledging that when the film started filming in 1938, Hitler wasn't yet viewed by many as the ruthless, evil person that we now know him to be. Chaplin was onto him though and plenty of the things that the film focuses on indicate that Chaplin could already see what many more would come to know. The film was progressive and seems meant as a personal insult to Hitler himself. Chaplin didn't hold back and without giving too much away, the Character that Chaplin plays in this, is yet another act of insult and defiance towards Hitler.
In some countries the film was banned and even caused Chaplin issues within the United states, resulting in problems for him and many believe it contributed to his long exile.
I admire the blatant open, honest stand that Chaplin made with this film. And then there is THE speech...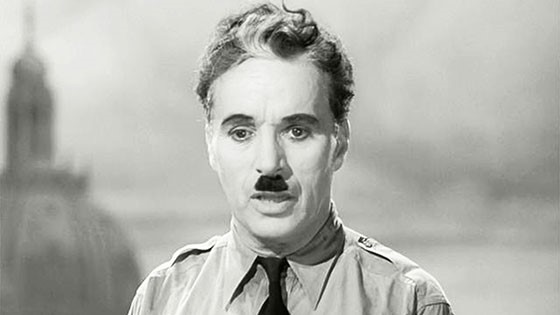 Summary
This is a powerful, funny film with great messages at it's core. Messages that run throughout the film, but also the sheer defiance in the making of the film and the courage of Chaplin to use his influence to openly insult the man and the regime that spread a message of hate and fear. I would recommend everyone to watch this film.
__________________
"I don't want to be a product of my environment, I want my environment to be a product of me" (Frank Costello)