Gulab gang ( Gulab means pink )---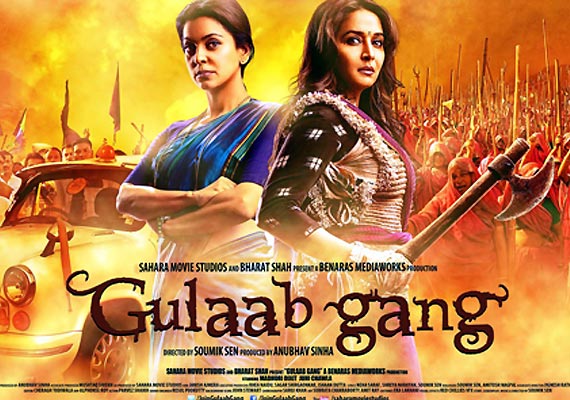 Gulab gang has something new in it---both the hero and villain are women , and that too not young but older women .
Yeah , hero is the right word for Madhuri Dixit ; because heroine merely means ' love interest ' of the hero . The leader of the good people who fight against villainy is ' hero ' to me , even though she is female....
The villain is played by Juhi Chawla , and that immediately will draw comparisons between the two yesteryear's rivals....
So who looks better in this movie , Juhi Chawla or Madhuri Dixit ??
At least to me , plain jane Juhi cannot match the raw sensuality of Madhuri Dixit , especially because Madhuri plays a rough hewn village woman and by her body language exudes a coarse sexuality especially in her backless blouses . Her whole gulab gang is full of such women---users of rough language and therefore exuding a coarse sensuality especially by showing their navels and backs . Their bodies look sweaty and dusty , their blouses stick closely to their bodies , and they have dusky complexions---all exuding oomph...
Coming back to Juhi , she is simply not cut out to play a bad person because she has the look of a ' oh so nice ' person on her face . One cant imagine her doing bad things and she has to twist her face to look bad---unsuccessfully of course....
On the other hand , Madhuri looks older than Juhi . But like old wine she has aged gracefully .
Other than the fact that both hero and villain are women , there is nothing much to crow about in the film . The fights show the same kicks and somersaults that male heroes do , but this time they are done by saree clad women using long stout bamboo sticks and sharp sickles .
What about women's rights and all that ?? Yeah , at the start Madhuri is majorly into women's rights and teaches many male oppressors of women a lesson they would not forget . And her gang solves other problems too , like a government officer cutting off electric supply to her village or a rapist who has raped a girl . In solving all this , violence is the key---violence done by tough village women , known as the Gulab gang because they wear gulabi ( pink ) sarees....
Of course , the gang makes many enemies along the way---all seething for revenge....
And the evil persons seething for revenge turn to cute looking villain Juhi for succor .
Madhuri's one dream is a school for girls in the village , a dream that she is willing to compromise for .
All this leads to one high road---politics....
As Madhuri and Juhi stand against each other in elections , the face off begins....
So what's new ?? Nothing , the same old good versus evil but between women . Yesterday was women's day after all !!
So does evil get demolished and does good become victorious ?? watch the movie for that....
Or better , watch some other movie instead cos I didn't like this one....
Music of the film is not anything to write home about , and if you didn't like this review don't complain because the movie didn't enthuse me to write a good review , nor was it bad enough for me to give you some entertainment by bashing it .
Verdict---nothing special....