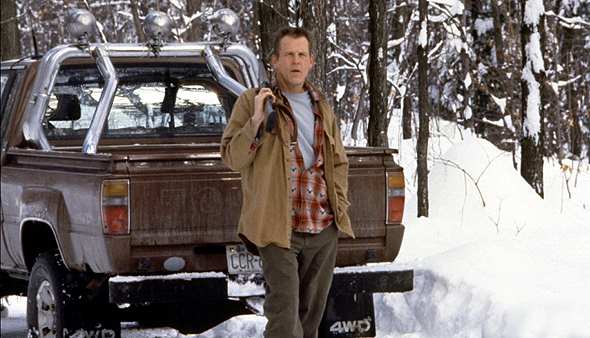 Affliction (1997)

Director: Paul Schrader
Cast: Nick Nolte, Sissy Spacek, James Coburn
Genre: Drama, Mystery, Thriller
Length: 1h 54min
Synopsis:
Based on the novel by Russell Banks.
Affliction
tells the story of a small town cop (Nick Nolte) who suffers from anger issues and is recently divorced. He finds himself investigating a suspicious hunting death, while events begin to occur that cause some to question his stability.
I'm not a fan of Nick Nolte but he's perfectly cast here. I can't say why, without spoiling the ending...so I'll just say, watch it and you'll know why.
What impressed me most was the use of actual outdoor settings, which added to the believability. I loved the snow, the film looks really good. The cinematography is skillfully done as the camera is 'quiet' and doesn't zoom or jump around. Instead there's a quiet poetic look to the film with it's many wide angle outdoor shots. This gives the feeling we're an observer from afar and I liked that.
I wasn't keen on the spoken narration by Williem DeFoe. The narration could have been reduced to only a few lines. But it wasn't a deal breaker.
Affliction
is an interesting movie, beautifully shot and much different than the average film.
.