in
Working Girl
was a first-rate motion picture comedy which displayed flashes of brilliance and was the breakaway surprise hit film of 1988.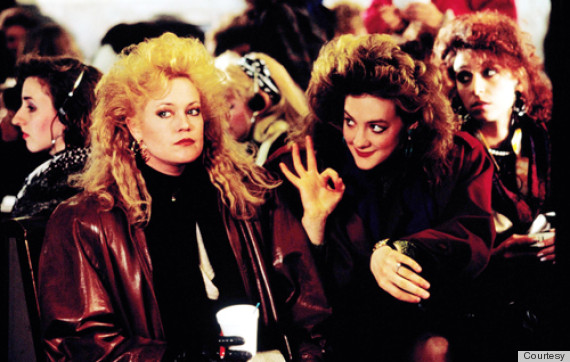 Masterfully directed by Mike Nichols, the film tells the story of Tess McGill (Melanie Griffith) a secretary who wants to be more than a secretary, who has a business idea stolen from her by her current boss and then gets her revenge by pretending to be her boss who is temporarily sidelined.
Nichols has a razor sharp screenplay here and has assembled a first-rate cast to pull it off. Griffith is a revelation as Tess, a role that re-ignited her comatose career and garnered her a Best Actress nomination. Sigourney Weaver is perfection as Catherine Parker, Tess' bitchy, self-absorbed boss who smiles in Tess' face but proves she's someone you can't turn your back on. Harrison Ford, in a refreshing change of pace for him, proves to be surprisingly adept at light comedy as Jack Trainer, Catherine's tentative love interest and business associate who finds himself torn when he meets Tess in the midst of her charade.
The interplay between these three rich and complex characters makes for one of the most interesting triangles to hit the big screen in years. There are effective supporting bits contributed along the away by Joan Cusack, Oliver Platt, Olympia Dukakis, Alec Baldwin, Philip Bosco, and in blink-and you-miss-them-cameos, Ricki Lake and Kevin Spacey.
One of the smartest and most engaging comedies ever made that also received Oscar nominations for Best Picture, Best Director, Best Supporting Actress (Weaver and Cusack)and won Carly Simon the Oscar for Best Original Song. A triumph for Nichols and a flawless comic ensemble. Not only one of the best of 1988, but one of the best comedies of the 1980's period.