in
The Devil Wears Prada
is an uneven but entertaining comedy that chronicles the adventures of one Andy Sachs, an aspiring young writer/Plain Jane who inexplicably gets a job as the assistant to the assistant of the editor-in-chief of "Runway"- a chic, fictionalized New York fashion magazine and how what Andy initially considered to be nothing more than a way to pay the rent ends up becoming her entire life as she becomes immersed in the world of international fashion and the blood-sucking sophisticates and anorexic models who inhabit it.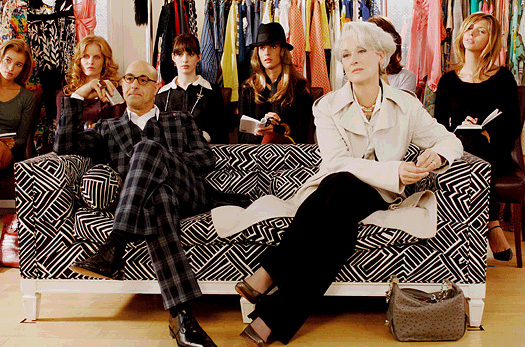 Despite the beautiful packaging of this movie that flawlessly displays the perks of being on the inside of the fashion industry, the screenplay is not terribly original and won't stand up to intense scrutiny. There are plot holes you can drive a truck through...most importantly, Andy is moments away from losing her job after several screw-ups, gets a fashion makeover from one of the designers, and then becomes the perfect assistant?
But the movie does have its assets, including effective use of NYC locations, stunning fashions, and a pair of delicious supporting performances from Emily Blunt and the always reliable Stanley Tucci as Andy's less than sympathetic co-workers. Anne Hathaway works hard in the role of Andy...she's a clothes horse and the camera loves her, but something about her performance comes off as forced and affected.
But what this film has above everything else, making it worthy of my three and ahalf popcorn rating is the extraordinary, 100-megawatt, dazzler of a starring performance by the amazing Meryl Streep, in the role of a lifetime as editor-in-chief/dragon lady Miranda Priestley. Never in all my years of filmgoing have I seen an actress so completely dominate a movie without ever raising her voice above a stage whisper...Streep is a one woman acting workshop as she effortlessly breathes life into this larger than life character without ever resorting to scenery chewing or any other cheap theatrics that could have creeped their way into this kind of characterization. Streep provides a master class in the art of underplay as she perfectly internalizes the power of Miranda, making every move and sound Miranda makes completely riveting.
The fascinating combination of fear and respect Streep fuses into Miranda is the heart of this movie and what makes you not want to miss a minute of what's going on. She makes Miranda funny, terrifying, and tragic from one scene to another with seemingly little effort and just when you think the character is a totally heartless shrew, Streep rips your guts out in one brief scene where Miranda confesses to Andy that her husband wants a divorce. Streep creates one of the mostly richly complex and entertaining characters of her career which, no surprise, earned her an unprecedented 13th Oscar nomination. It is the performance of the divine Meryl Streep that transports
The Devil Wears Prada
from fluffy to fabulous.