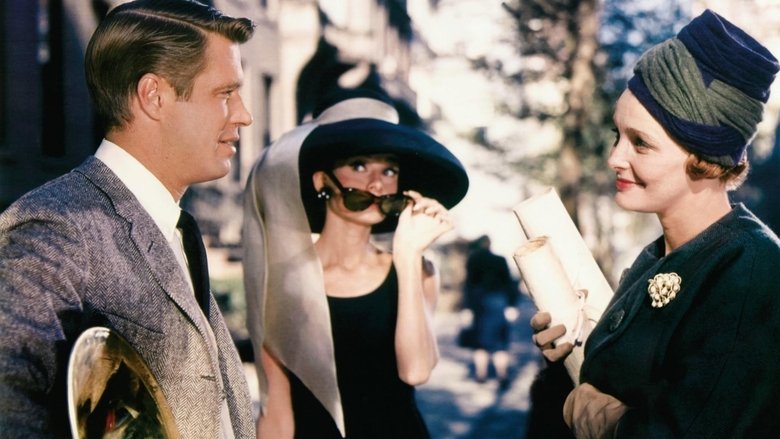 in
A luminous performance by Audrey Hepburn that earned her a fourth Best Actress Oscar nomination,
Breakfast at Tiffany's
is the glittering 1961 comedy-drama based on a story by Truman Capote which follows the misadventures of a good time girl named Holly Golightly a completely beguiling and exasperatng party girl who isn't actually a prostitute but is not above accepting $50.00 for "the powder room" from gentleman who desire her company.
Holly is a girl for the moment...her apartment, though having lived there for years, looks like she just moved in three days ago and she refuses to give her cat a real name because it implies commitment. Holly's perfectly isolated but satisfactory existence is interrupted when she meets a struggling writer (George Peppard), whose fascination with Holly leads him to want her to unpack and name the cat. Hollywood folklore claims that Holly's story was cleaned up considerably for 1961 movie audiences who probably couldn't have handled Capote's story in its raw form.
I think if this movie were ever remade today, it would stick more to the original story where Holly would be a prostitute and Paul Varjak (Peppard's character) would be gay. If the truth be told, I think the relationship would be a lot more interesting if Paul were gay, but 1961 movie audiences were not having that, so we get a more standard love story. The story as it is an entertaining one, lovingly mounted by director Blake Edwards with a deft screenplay and charming performances from the stars.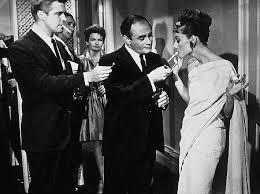 Solid support is provided by Martin Balsam, Patricia Neal (in a wonderfully stylish turn as Varjak's "benefactress"), Buddy Ebsen, and Elvia Allman. Only Mickey Rooney misses the boat as Holly's Japanese landlord. It's definitely a watered down version of its original source, but it is also one of the most romantic and endearing films of the 1960's that cemented Audrey Hepburn's position as Hollywood royalty forever and introduced a song that would become a pop standard called "Moon River" that would win an Oscar for Song of the Year. [rating]4[rating]