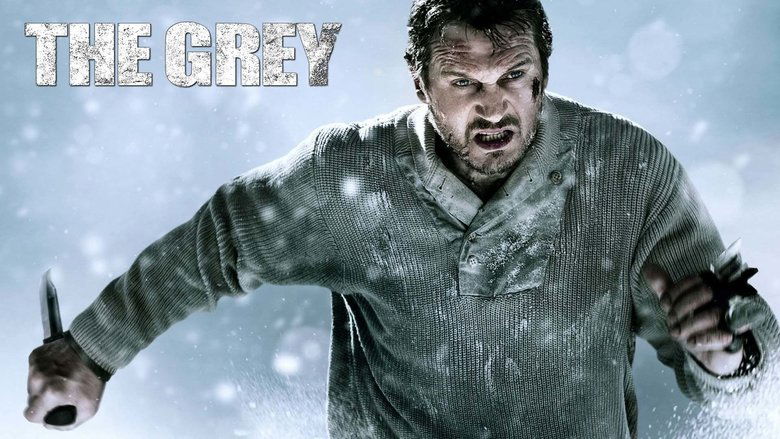 \
in
The Grey (2011)
2008 saw "Taken", a film starring
Liam Neeson
that is now regarded as a modern cult favourite. Whilst it is not a particularly good film, and lacks in both plot and characters, it is the performance of Liam Neeson in the main role that makes the film what it is, 93 minutes of him entertaining the audience with his combat skills.
This film has a lower IMDB user score than "Taken" but a higher Metacritic score with a positive average. I expected something stronger has a whole than "Taken" and I was not disappointed with what I got and was impressed with "The Grey", a thoroughly enjoyable film that makes for great viewing.
Neeson in this film plays the main character Ottway, he is the leader of a group of men attempting to navigate away from a vicious pack of wolves after an air crash in Alaska. Neeson's performance doesn't take complete control of the film though, his character instead acts in a way in which is can benefit it, his character and personal thoughts and morals lead to conflicts within the group as we see different characters that are very real and believable. The group needs to work together and survive yet is clearly suffering from an inner rift at the beginning, we see them join together in a battle for survival as they face many obstacles along the way that test them both physically and mentally.
"The Grey" is a brutal survival film, set in the harsh cold environment of Alaska where the group of many battle for their lives as they are chased by a pack of wolves. At times the film provides us with some gruesome scenes, if you're expecting some happy story where Liam Neeson turns save the day with his shooting skills to kill the entire wolf camp then its fair to say you may be disappointed, this is far from some action flick and actually feels real as we see and feel the pain suffered by the group. Neeson's job involves shooting with his sniper although after the craft he finds himself unable to use his weapon, this immediately sets a precedent for the events that come to unfold without the film, these men are put in uncomfortable situations and must somehow come together and battle their environment and enemies in unorthodox ways.
The film is visually superb with the shots really creating an extremely uncomfortable, dark and horrifying environment, particularly in the night. We are always on the edge of the seats, the film is a thriller with a number of brutal yet well worked shocks.
I didn't really think the emotional scenes and flashbacks of Neeson were particularly beneficial to the film, I think others would have enjoyed these more than me. But "The Grey" is a film that I definitely recommend to any thriller fans. It is a gritty and at times brutal film that uses its environment and the wolves to create a thrilling horror aspect, the film has us gripped throughout and we can really feel the character's dire situation in this film.
RATING: