in
Day 239: December 25th, 2010
Home Alone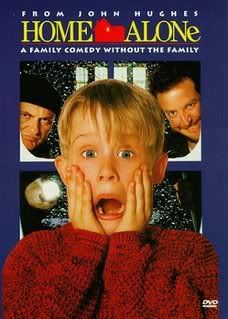 This is my house, I have to defend it.
A classic for me, I watched this a lot when I was a kid. Although, I never imagined myself as Kevin at any point I don't think. Kevin is left home alone when his parents go on vacation. At the same time two bandits try to break in and steal some goods. It's up to Kevin to protect his home from these intruders.
I never really liked the film because of Macaulay Culkin, for me it was always the hilarity of the two antagonists. Joe Pesci and Daniel Stern are hilarious in this movie and watching them get their ass handed to them by these elaborate traps is always a treat. Despite the fact that most of these traps would kill man, I still found them to be funny and entertaining. I always had a soft spot for Stern's Marv, he seemed like the one he was always picked on by the angry Harry.
Pesci kept forgetting that this was a family film and would use the f-word numerous times. Columbus finally got him to say 'fridge' instead of the f-word, which is why he says it so many damn times.
This is a classic holiday film that kids will enjoy. It will empower them. The film went on to have a few ill-advised sequels, but the first still remains to be an enjoyment today.