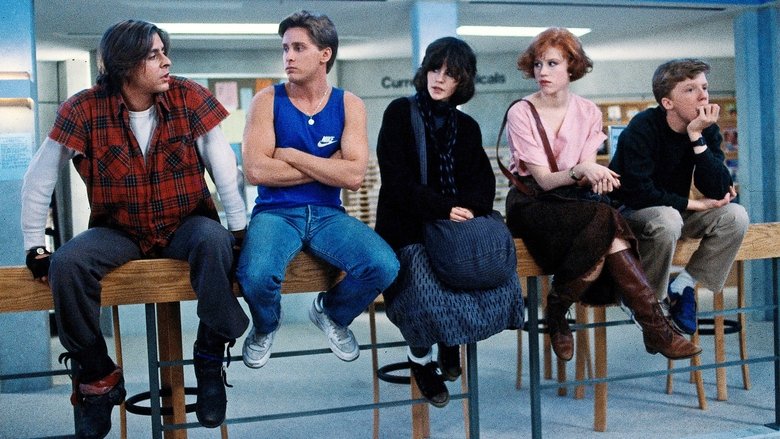 in
Connor Macgregor Reviews...The Breakfast Club
Before seeing this, i thought this would be just another one of those funny teen films by John Hughes...but boy i was so wrong.
They were five students with nothing in common, faced with spending a Saturday detention together in their high school library. At 7 a.m., they had nothing to say, but by 4 p.m., they had bared their souls to each other and become good friends. To the outside world they were simply the Jock, the Brain, the Criminal, the Princess and the Kook, but to each other, they would always be the Breakfast Club.
Boy where do i begin with a masterpiece like this ? Firstly its a direct insight into not one but five lives of teenagers. Each have their own personality and way of live. Molly Ringwald is the spoilt rich kid who turns out to have a heart, Anthony Michael Hall is the geeky kid who wants to fit in, Emilo Estevez plays the jock whose a friendly guy but wants to choose a different course of life, Judd Nelson is the rebel who bullies people yet his life is as bad and complicated as the others and then there is Ally Sheedy who is the goth kid who has no direction in life and has no one to turn to. This is a great study into teen life and the fact that teens are not perfect and not damaged goods and have problems like grown adults do too. And they are all different but have something in common and are able to share their pain to each other.
Paul Gleeson and John Kapelos are both great as The Teacher and The Janitor. Great supporting roles and mirror how adults see teenagers in the real world. In the end, the viewer is left to ponder how the 5 lives will turn out. It makes you think and wonder where they are now, or if they still are here now.
Overall The Breakfast Is THE best Teen film ever made. Its a great study of teen life as well as John Hughes best film.
Rating - 100% - A+