in
Day 196: November 12th, 2010
Raging Bull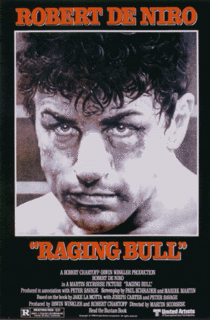 I finally saw this one.
Jake La Motta, his violent temper wins him matches in the ring, but destroys his life outside of it. The film chronicles his life from rise to fame, to the destruction of it all.
Martin Scorsese is my favourite director, so some of my friends considered it a sin for me to have not seen this one until now. Some people here would even say the same thing. The film is highly regarded as one of the best films of the 80's, some people will even go further and say one of the best films of all time. I, not so much.
Yes, ladies and gentlemen, I did not love Raging Bull. In fact, I was completely indifferent to it for the entire first half. The film finally managed to grab my interest for the latter part of his career/life. To me, the most interesting parts were after his boxing career, when he was a fat rude jerk.
I can't fault Scorsese, because the film is expertly crafted from start to finish. The clever choice to shoot it in Black and White was a right one and the dedication that DeNiro put into the character is amazing. What Deniro did with the character and this role actors can only dream of today. Only one person I can think of today goes to the extreme lengths that DeNiro did for this role and that's Christian Bale.
DeNiro really does shine in the film, while Pesci plays his usual self, this time a little less psycho. He's calm cool and collected and it's nice to see these two together in something fresh and new (for me anyway). Cathy Moriarty is beautiful and puts up with all the crap and physical abuse that is given to her by the abusive and womanizing LaMotta.
I wanted to love it, and I think that's where the big trouble lies. The film didn't do much for me, like I said earlier it didn't really grab me until half way through, and by then I was really bored. Maybe the LaMotta story doesn't interest me enough to care. No where near my favourite Scorsese film, or even my Scorsese/DeNiro pairing. It's far from the worst though as well.
Let the hate begin.