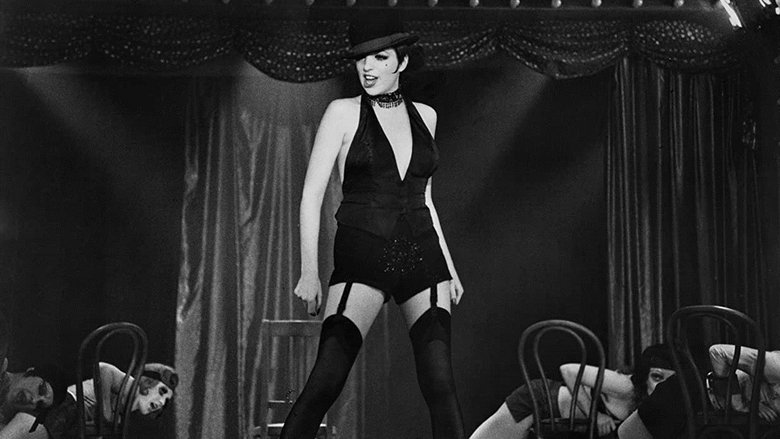 in
7. Cabaret
(Bob Fosse, 1972)
Liza Minnelli follows in her mom's (Judy Garland's) footsteps by giving one of the greatest female performances ever in my vote for the greatest movie musical. The film tackles family relationships, the rise of Naziism in early 1930s Germany, sexuality, self-delusion, transplanted people having a difficult time in their new environment, Bob Fosse choreography, whether a woman can stand up to pee, the joys/dangers of a ménage à trois, the comparison/contrast between Jews and Nazis, the idea that a musical can be a totally honest, believeble film, etc.
-
Except for one chilling scene, all the musical numbers take place in the cabaret, so this is a film which won't let you criticize it for somehow being unrealistic. All the songs in the cabaret, comment, often shatteringly, about what's going on in 1931 Germany and what kind of moral climate could possibly propulgate it. The song sung outside the cabaret is the show-stopping Nazi hymn, "Tomorrow Belongs to Me", sung at an outdoor hofbräuhaus where the citizens get a little... shall we say... carried away with their nationalism.
Director/choreographer Bob Fosse comes up with so many incredible images that your jaw should be in a constant state of
dropitis
, plus he elicits incredible performances by Liza, the masterfully-hateful-yet-cool M.C. (Joel Grey), the vulnerable English teacher (Michael York), the doomed, yet somehow hilarious couple (Marisa Berenson and Fritz Wepper), and the wealthy married man (Helmut Griem) who can afford to dally with multiple lovers. They all add to the power and entertainment of
Cabaret
, a truly mature, hilarious and moving movie musical. I will guarantee you that you will be surprised by it.