in
Sunshine
(2007, Danny Boyle)
4/5
DB can do little wrong in my eyes but I was intrigued and more than a little apprehensive when it was announced that he was attempting to make a Science Fiction film.
I shouldn't have doubted him.
As the man himself says, there are elements of
2001, Alien
and the original
Solaris
in
Sunshine
's ultimate execution. The half-stoned, hippy ghost of
Silent Running
also stalked the set (minus the teeth-curling soundtrack, fortunately.
Sunshine's
score is fresh and vibrant, but then again, it was done by Underworld).
Convention is no bad thing here and has given Boyle and writer Alex Garland the leeway to play around with recognised situations while handling the BIG TOPIC of a dying star, and thus a dying Earth with much needed restraint. Imagine Ron Howard with the same subject matter?
The ensemble cast are well chosen with no one hogging the limelight: Bambi Murphy is there for the girlies and Michelle Yeoh for the slightly lecherous, balding thirtysomething men (ok, for
me
) but everyone comes across as an intelligently designed cog, whirring away in a Rolex watch of a movie. *cough*
Danny Boyle? He seems equally confident and successful in a variety of genres. Dare I say it but, in terms of mainstream film directors there aren't many better right now.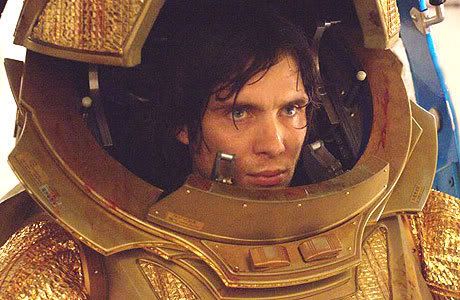 You'll still be able to see my baby blues when the helmet's on? Read my contract, bub!