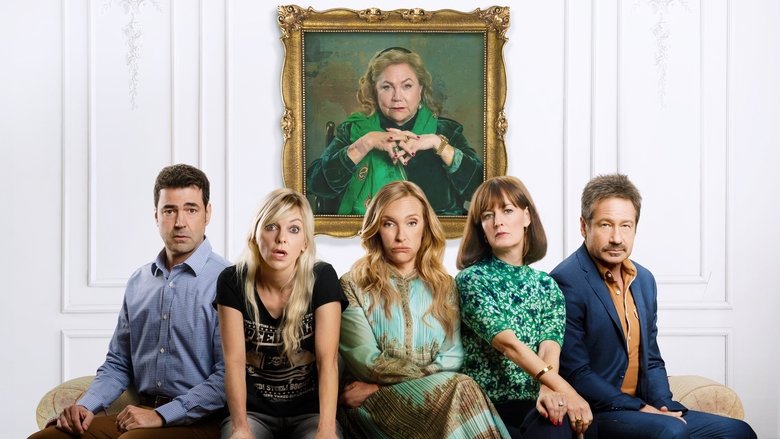 in
The Estate (2022)
The 2022 black comedy
The Estate
does a serious retread over some well worn cinematic territory and, sadly, doesn't do it very well.
Macey (Toni Collette) and Savanna (Anna Faris) are sisters who run a diner that is about be foreclosed upon and decide the only way to save their business is to travel to the palatial home of their dying Aunt Hilda (Kathleen Turner) and suck up for the inheritance. Unfortunately, they have been beat to the punch as their arrival finds their bitchy cousin Beatrice, her wimpy husband, and sleazeball cousin Dick are already there, lips firmly attached to Aunt Hilda's butt.
Director and screenwriter Dean Craig seems to have some sort of obsession with funerals and dysfunctional families because he is also the force behind the dreadful 2010 comedy
Death at a Funeral
. which featured a mostly black cast. He's gone from blacks to white trash as most of the characters in this movie will probably bring to mind either much superior films like
Knives Out
,
Greedy
, and
The Honey Pot
, but what it actually brings to mind is a an extended episode of Jerry Springer's talk show.
The initially ass kissing goes all the familiar places we expect, but the film takes a tasteless turn near the halfway point where we learn that Aunt Hilda's bucket list includes a final sex romp and this is where the movie really starts to lose us, especially when Beatrice forces her husband to offer himself to Aunt Hilda.
It was sad watching a talented actress like Toni Collette debase herself by appearing in such nonsense. I'd like to think that a different actress was originally cast as Macey and had to drop out, making a Collette a fill in. Anna Faris did similar slapstick on
Mom
and the
Scary Movie
franchise and Rosemarie Dewitt does bring the bitchy to Beatrice, but the few laughs this film provided actually came from David Duchovny as smarmy Cousin Dick. It wasn't the worst comedy ever, but Toni Collette deserves better than this.