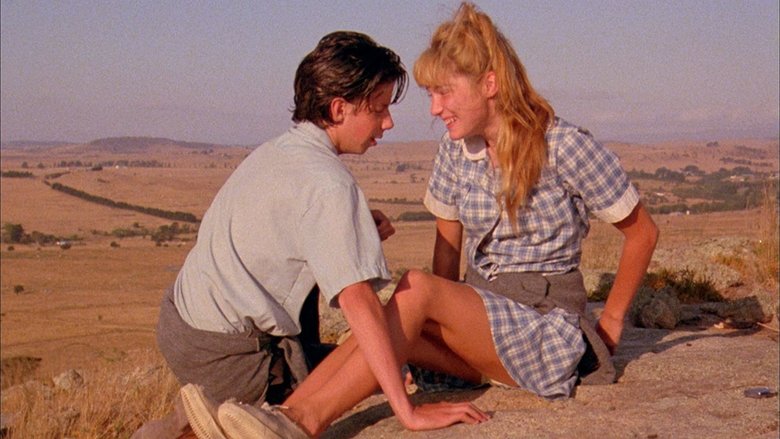 in
The Year My Voice Broke
Watch this: you can actually pinpoint the second when his heart rips in half.
Scotty in
Star Trek: The Next Generation
episode Relics says it best: "it's like the first time you fall in love. You don't ever love a woman quite like that again." That is the situation of Danny (Noah Taylor), a teenager whose precociousness and love of music and sci-fi make him all too relatable. His first and sadly unrequited love of childhood friend Freya (Loene Carmen), which he holds on to despite what happens when local bad boy Trevor (Ben Mendelsohn) comes along, also hits close to home. This isn't the first and likely won't be the last movie about first love I've seen, but it has qualities beyond its relatability that make it stand out. The most prominent of these is nostalgia, which drips from every frame. When it's not the sun-bleached vistas, it's Danny's narration, and when it's not that, it's the combination of the aptly chosen '60s pop songs and Christine Woodruff's beautifully wistful score. It thankfully doesn't take it too far, though, particularly in how it portrays small towns as the hotbeds of gossip and toxicity they can be instead of in the way those who haven't lived in one or how lesser entries in this genre idealize them. There's also Ben Mendelsohn's standout performance, which works for how raw and animalistic he makes Trevor and for how diametrically opposed he is to the more sensitive and thoughtful Danny. Despite this, I appreciate that he seems more like a person than a force of nature, especially for how he treats Danny like a friend instead of a rival. I also have to praise familiar face Bruce Spence as Danny's mentor Jonah, especially because it's nice to see him in a role where a plays a relatively normal person after mostly seeing him in movies where he's barely recognizable like
Dark City
,
The Return of the King
and
Revenge of the Sith
. As for the tragic ending and the bittersweetness that is Danny's response, it more than ably captures how it feels when first love ends, and I'm not ashamed to say that it brought the tears.
There are few experiences in life as formative or that make or break you when all the possibilities you imagine during your first love go up in smoke. As devastating as it is when the object of your affection does not reciprocate in the way you want them to, another thing this movie gets right is how it stresses the importance of being a friend regardless, especially when they find themselves in unfortunate situations like the one that leads to Freya's departure. Again, this movie belongs to a crowded subgenre; in fact, it's so crowded that I for the life of me cannot think of my #1 pick in it. As much as I enjoyed this entry and as much as it moved me, I would rank
Lucas
- which it reminds me of the most - and
Summer of '42
over it. For what it gets right about the experience's complicated feelings, the tragedy in why they rarely last and what they're like for the most sensitive and imaginative of us, though, it is up there. Oh, and it's always nice to see a great Australian movie since I've seen so few of them, not to mention one that lets me see how two actors I'm always happy to watch began their careers.