in
Elvis (2022)
The flashy theatrical direction by Baz Luhrman and the electric performance by the leading man make it easy to overlook the minor issues with 2022's
Elvis
, a sparkling and inventive look at the legend that doesn't bring us anything new regarding the life of the Pelvis, but makes the story feel imaginative and new through the eye-popping direction we expect from the Luhrman.
Luhrman knows that he is dealing with well worn cinematic territory here so he puts the accustomed razzle dazzle storytelling technique to the material, like he did with his masterpiece
Moulin Rouge
. Luhrman (who also co-wrote the screenplay) chooses to tell the story through the eyes of Col Tom Parker, who is in the hospital after a heart attack, who becomes our guided tour through the rise of Elvis and how none of it would have happened without his guidance and manipulation.
The screenplay by Luhrman, Sam Bromell, and Craig Pearce is a little rambling and moves a little too leisurely, making the film longer than it needs to be. Way too much time is spent at the beginning of the film pounding into the viewers' heads that Elvis' musical style was influenced by blues and gospel and a lot of scenes go on a lot longer than they need to. The scene where Elvis risks arrest by performing "Evil", a song he would later bring to the screen in
King Creole
is terrific, reminding me a lot of the scene in
Straight Outta Compton
where NWA is threatened with arrest if they perform "F**ck the Police". We know what's going to happen so the buildup didn't need to take up the screentime it did.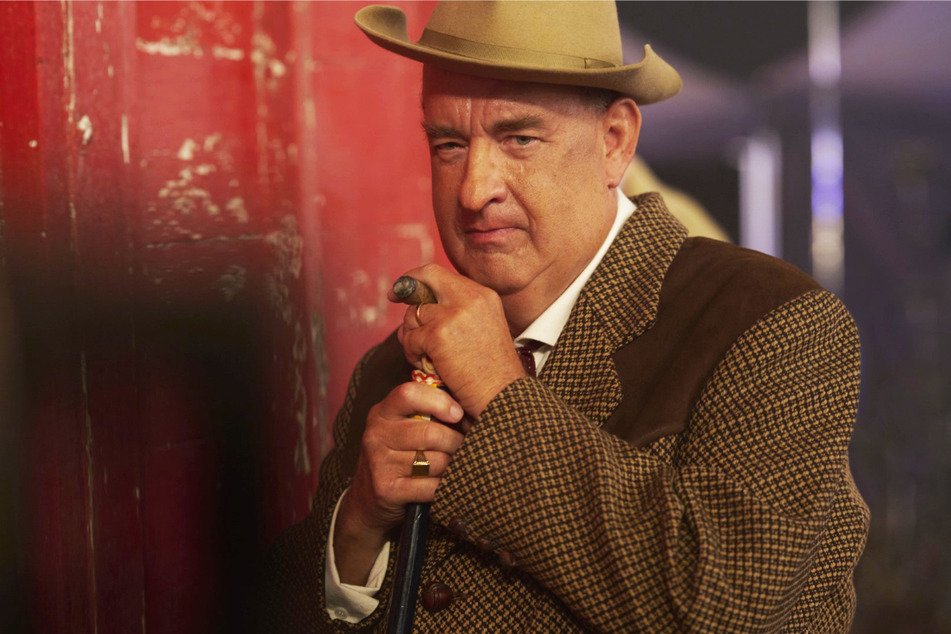 LOVED the scene that documented Elvis' career as a movie star, beautifully meshed with his courtship of Priscilla. Clips from Elvis' films are actually recreated to perfection with Austin Butler recreating them to a T...and can we talk about the discovery of the decade, one Austin Butler, who sets the screen on fire with his blazing, electric sex on legs performance as the King, fueled by those piercing blue eyes that rival Paul Newman's and an understanding and respect for the character he's bringing to the screen without ever resorting to caricature or previous screen reincarnations of Elvis.
Two time Oscar winner Tom Hanks goes through a remarkable physical transformation to bring Col Tom Parker to the screen and never shies away from the negative aspects of the character. Hanks is Oscar worthy here, playing another of those screen villains who does all of his evil with a nasty grin on his face. Richard Roxbrough (so memorable as the Duke in
Moulin Rouge
) and Helen Thompson are terrific as Elvis' parents and I have to give a shout out to Alton Mason, who stops the show in his one scene as Little Richard. As expected with a Baz Luhrman, production values are splendid with special nods to art direction/set direction, film editing, and costumes. It's a little longer than it needed to be, but Luhrman's flash over substance style of direction serves him well here.