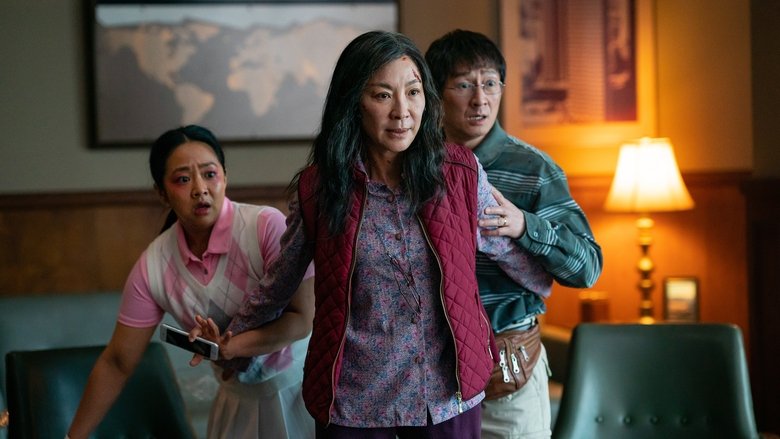 in
Everything Everywhere All At Once
, 2022
Evelyn (Michelle Yeoh) runs a failing laundromat with her husband Waymond (Ke Huy Quan). She has a difficult relationship with her daughter, Joy (Stephanie Hsu). Joy is gay, which further strains Evelyn's biases when her father, Gong Gong (James Hong) comes to visit from China. But Evelyn's problems take on a whole new scale and scope when she finds herself involved in interdimensional intrigue related to the different paths her life could have taken.
This was the first movie I've seen in the theater since I saw
The Invisible Man
back in early 2020, and it was the perfect reintroduction to the big screen.
Above all else, this is a film that is very funny and uses visual language to the very limits. The jokes and visual gags run the gamut from the "smart" to the very, very stupid, and the result is a delirious mess that somehow manages to surprise even past the two hour mark. Aside from the comedy, it is also absolutely splendid and lavish in its use of costume and color, another element that continues to ramp up as the film goes on.
Performance-wise, Michelle Yeoh absolutely owns every moment that she's on screen, displaying both a knack for physical comedy and action as well as handling the more emotional and intimate moments. She is more than well supported by Ke Huy Quan as her accommodating husband, and Stephanie Hsu as her alienated daughter. Jamie Lee Curtis also puts in a wonderfully funny performance as Deirdre, the tax auditor who is overseeing the family's tax troubles.
In terms of negatives, the movie does feel like it's about 15-20 minutes longer than it needed to be. There's a small degree of redundancy to some of the sequences. The themes regarding Evelyn attitudes about her own life and her relationship with Joy play into pretty familiar character/plot arcs. You'll probably know how the movie ends in the first 30 minutes or so. That said, for me this movie was very much about the journey and not the destination.
Highly recommended and a great film to see in the theater.