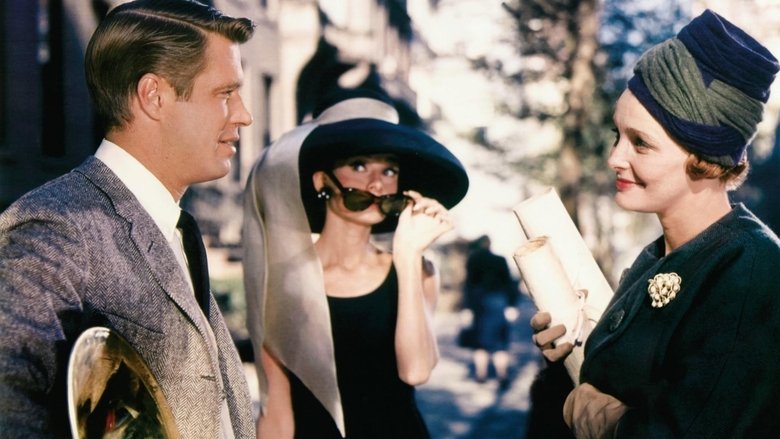 in
Breakfast at Tiffany's
, 1961
Writer Paul (George Peppard) moves into a new apartment building where he meets quirky socialite/call-girl mish-mash Holly Golightly (Audrey Hepburn). While Paul struggles with his flagging career, Holly lives in terror of being boxed in. As their friendship develops, can they find their way to romance?
Classic films bear the weight of all of the pop culture saturation that you've encountered before watching them, and this is a film that didn't stray too far from what I was expecting, but still had a few charming surprises in store.
Audrey Hepburn is utterly magnetic, and for the most part she was a fun, engaging lead. Her look in the film is deservedly iconic, and it's not at all hard to imagine her being an object of infatuation. She also brings some emotional heft to the final third of the film where things get more serious. Peppard is also good in his lead role, if a bit stiff at times.
I really enjoyed the film's use of different, interesting settings. The color design of the settings and the costumes worked nicely together.
There was, though, something a bit off for me in this film. While I enjoyed the complicated relationship between Paul and Holly, I didn't really like them as a
couple
. (I also never enjoy the whole "shoplifting is charming" thing--always turns me off of characters). I know that it flies in the face of all things romantic comedy, but I found myself wishing that this had managed to be a story about a friendship. Two people who are stuck in their own ways helping the other to get unstuck. The words "You belong to me" fell so flat for me (and honestly came off as a not very healthy perspective on a relationship!).
And while I was very aware of the Japanese caricature played by Mickey Rooney, woof. I was not fully prepared. I tried to think about how I'd feel if this character had been played by a Japanese actor, but I couldn't even get there. At one point he's trying to speak and struggling to work around the big fake teeth and I almost couldn't look. But don't worry. If you are Asian and offended by this portrayal, Mickey Rooney "forgives you", LOL.
Glad I watched it and some perfectly charming moments. Probably not a film I'd revisit anytime soon--or ever--but I get why it made such a splash.