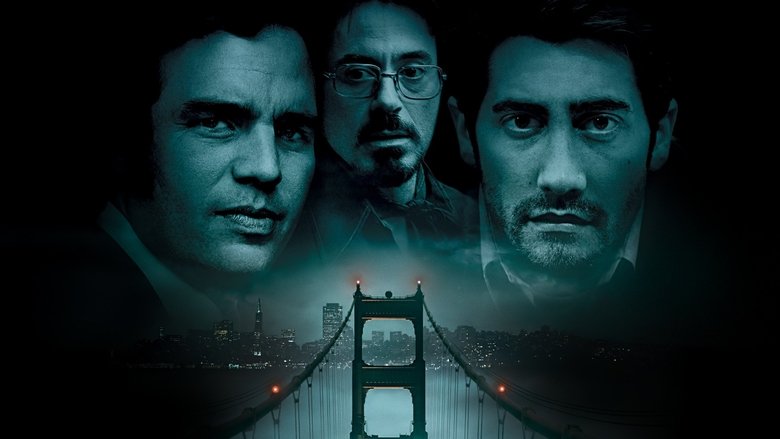 in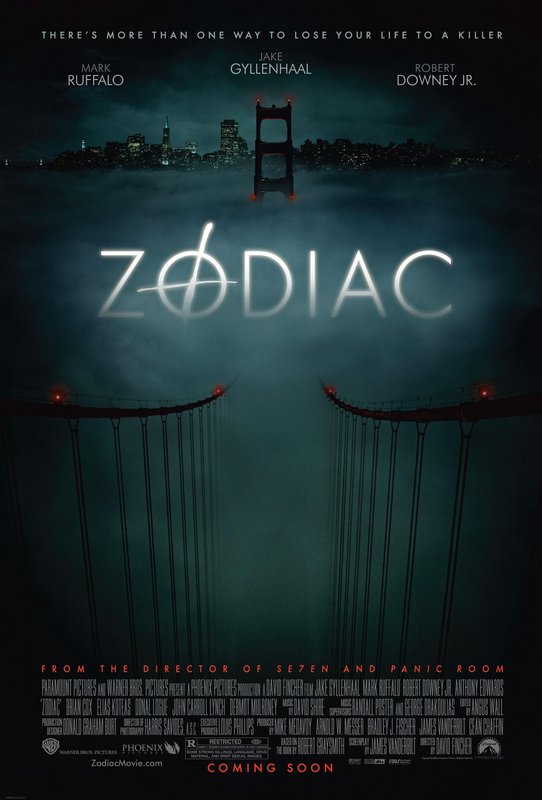 Zodiac - 2007
Directed by David Fincher
Written by James Vanderbilt
Based on a book by Robert Graysmith
Starring Jake Gyllenhaal, Robert Downey Jr.
& Mark Ruffalo
Obsession doesn't always live forever. It can live for a while in a person, and die, only to be resurrected later. It can come on like a fever and last a very short while. It can disappear for good, or be recurrent. The David Fincher-directed film
Zodiac
isn't necessarily all about the Zodiac or his mysterious crimes - this is a film about obsession, and about three men in particular. San Francisco detective David Toschi, San Francisco Chronicle cartoonist Robert Graysmith and Chronicle crime reporter Paul Avery. All three would have their lives unalterably impacted by their obsession with the person who called himself the Zodiac - a killer who left a mark on the 20th Century in much the same way Jack The Ripper did in the 19th. While the Zodiac's crimes were neither all-encompassing or extraordinary, they were played out in the public eye and created a mystery that has never been adequately explained or solved. His taunting letters and elusiveness tease the imagination, and create the kind of monster that haunts the minds of people who become obsessed with mystery. It's the perfect topic for a film of this nature, and for a David Fincher film. One where what may be a monster is always lurking, just out of frame.
Zodiac
pulls a viewer in from the start with artfully composed shots looking in a precise way out from a car's front-side window - something that will be a recurring point of view throughout the film - during 4th of July fireworks in 1969. Two lovers gather and park in a deserted spot, only to be shot by an unknown and unseen assailant. These were Mike Mageau and Darlene Ferrin, the latter who would die. Donovan's "Hurdy Gurdy Man" has never sounded as spooky or threatening. "Singing songs of love" seems to be a kind of cruel promise from an omniscient maniac that only delivers death and despair. In fairly short order, the Zodiac has carried out his other two brutal crimes which result in the deaths of Cecelia Shepard and cab driver Paul Stine. Ironically, as far as murders go the Zodiac is finished, but the film is only just beginning. Fincher pulls no punches in showing us most of these crimes in detail, and almost obsessively recreates the crime scenes as they were back in the day. Through the use of Victor J. Zolfo's set decoration, Keith P. Cunningham's art direction, Donald Graham Burt's production design and Fincher's exactitude the audience is very sincerely taken back in time during these re-creations. These crimes serve the basis of a kind of prologue - an excellent one that serves as the audience's entry into this particular rabbit hole.
The self-named Zodiac killer would send letters to his victim's families, to the police and to the press. He would often include ciphers and codes for people to solve, always teasing that some valuable piece of information would be contained in them. He would also go on to claim responsibility for murders he had clearly not committed, but always provide proof for the murders he most certainly did. His frustrating elusiveness would continue for many years - and the crimes were never solved. His murders encompassed a wide geographical area, and as such police had difficulty coordinating their efforts to catch him. Two detectives charged with finding him were San Francisco detectives Dave Toschi and his partner Bill Armstrong. Reporting on the case for the San Francisco Chronicle was Paul Avery, and taking a close interest was the newspaper's cartoonist Robert Graysmith. It would be Graysmith who would end up collecting and collating the mass of information which would go into his novel Zodiac, which would be published in 1986. This book served as the impetus and source material for a script written by James Vanderbilt. Vanderbilt had been part of this project from it's earliest inception.
James Vanderbilt, by the time
Zodiac
had rolled around, had been involved with several high-profile films. His scripts had always been mangled by co-producers and studios specifying changes that had to be made - ones that would often wreck what could have been good films. 2003 film
Basic
, directed by John McTiernan, was rendered virtually senseless by a series of 'twists' and stipulations that Vanderbilt acceded to in a good natured kind of way.
Zodiac
marks the first time he was able to turn in a script to his own satisfaction and not have it mutilated by others. He had built up a friendship with Robert Graysmith, having met him at the premiere of
Auto-Focus
, a film about the life and death of Bob Crane which had been adapted from a book written by the former cartoonist. This friendship eventually led to a third party at this meeting, Bradley J. Fischer, optioning the rights to Graysmith's Zodiac book. Vanderbilt's script definitely showcases his talents, and people should probably not be so quick to heap all of the praise on to David Fincher without at first acknowledging Vanderbilt's part in starting the whole process and sketching out the details of this successful film. One that melds Graysmith's own journey into the story as a whole. It is Graysmith we stay with for most of the film, as his obsession grows and that of detective Toschi and Avery withers and dies.
Following Graysmith, played with a certain intensity and required obsessiveness by Jake Gyllenhaal, is like a journey into the darkness of every person's soul. Shots are often shrouded in darkness and very dimly lit - but not at the expense of detail. We search for what's not there - but we definitely pick up what is there. Adding to the haunting nature of this is a score that has been refigured from that of the classic film
The Conversation
by David Shire and follows all of the true-life characters around with their particular cues. It is during Gyllenhaal's scenes where they work their best - during his almost paranoid search for the killer. Robert Downey Jr. gives us something very different as Paul Avery - his delivery of what is an irreverent character in the script is successfully put across in his well-perfected irreverent style. Mark Ruffalo's Toschi completes this triangle of obsessed searchers with a more disciplined veneer as you'd expect from a police detective. Gyllenhaal, however, has the more challenging part. The only actor aside from these three who is really pushed into a dark corner is John Carroll Lynch, who plays Graysmith's favourite suspect - Arthur Leigh Allen. Pleasing, is the wide array of talent on display here in
Zodiac
, even for lesser characters. Anthony Edwards, Brian Cox, ChloŽ Sevigny and Dermot Mulroney are always harbingers of good things in films.
Visually,
Zodiac
makes this mystery more involving with interesting ways to pass time - and some breathtaking shots of San Francisco and surrounding areas. At one stage we witness the Transamerica Pyramid being built stop-motion style, which clues us in to how long the hunt is dragging on for. Director of Photography Harris Savides had worked with Fincher previously, creating the opening credits sequence for
Se7en
and shooting his 1997 thriller
The Game
- a critical success. The technical department does resort to using CGI, but thankfully this isn't easily spotted and is unobtrusive. Some other inventive visual styles are included in footage re-edited back into the film in the longer special director's cut released a while later. You'll notice some of the Zodiac's ciphers making their way into the images that pass by. It all adds to a feeling of mystery - as if the film itself is haunted by an unseen ghost. The San Francisco Chronicle set does however look like a post office - which is what they had used as a substitute. Other sets look fine, and are decorated with period-appropriate items of interest. I enjoyed seeing Paul Avery's Pong game when he's visited by Graysmith.
From Toschi's hunt to Avery's investigative reporting and Graysmith's obsession with the killer we get to learn nearly everything of interest in this true life story and still hunger for more. Of course, we want a solution - and Fincher and Graysmith do think they have one, but not everyone has been convinced. Regardless, you'll come out of seeing
Zodiac
with a disquieting feeling that the dark unknown is swallowing this mystery, and it makes us all a little uneasy. This is an engaging and enjoyable film that doesn't feel at all long even at 157 minutes. Best of all, we feel what the characters are feeling, whether that be curiosity or fear. When we follow Toschi we feel like a predator hunting something elusive. When Graysmith feels he may have trapped himself in a suspect's apartment we feel like the prey. From a top rate script to confident filmmaking from Fincher, added to a good score and interesting photography, this popular film entertainins on successive viewings and is interesting - not to mention attention-grabbing. On the occasions it wants to be funny, especially with Mark Ruffalo and Anthony Edwards - it succeeds. Best of all, it is haunting. When Graysmith says, "I need to know who he is. I need to stand there, I need to look him in the eye, and I need to know that it's him," he's putting into words the emotional hunger that grows from haunting obsessions like these - one that the film captures exceedingly well. Always be careful. They can cost a person so very much, while not always shedding light on what's out there in the darkness.