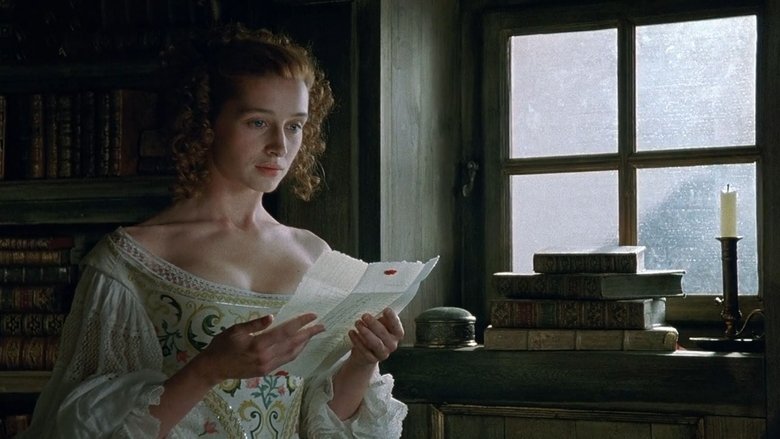 in
Cyrano de Bergerac
(Jean-Paul Rappeneau, 1990)
Edmond Rostand's
Cyrano de Bergerac
is one of my favorite plays and one of my fave movies. There have been some good films based on it. The awesome JosÚ Ferrer won his only Oscar for the low-budget, yet high-entertainment, 1950 version. Steve Martin gave one of his best performances and did one of his best scripts for the wonderful
Roxanne
(1987).
But my favorite version is undoubtedly the French version where Gerard Depardieu gives one of film's most memorable performances. From the opening scene, the play starring the pompous idiot actor, you know you are witnessing something special. First off, even if the film fibs in its depiction of the way the gigantic candelabras are all lit by hand and then pulled up by rope to light the theatre (and I don't know if it does), that's the way I would want to see the scene staged. Depardieu is incredible spouting Rostand's poetry (subtitled in English by
A Clockwork Orange
's Anthony Burgess), full of so much wit, and then he immediately has to duel AND defeat AND escape from a group of overarmed fops who couldn't possibly recognize a real man.
For me, Depardieu is mindboggling, whether he's being witty, excelling at physical activity, or (especially) pouring his heart out to the love of his life Roxane (Anne Brochet), whether subtly expressing himself as a possible lover to her or heartbreakingly pitching the young soldier Christian (Vincent Perez) she dearly falls in love with at first sight. The balcony scene where Cyrano speaks his heart to Roxane, during a storm, while pretending to be Christian, ranks with the opening scene for virtuosic filmmaking and acting. The film continues with another jealous lover who tries to ruin both Cyrano and Christian, by sending them off to war, but it all culminates in a moving finale where everything becomes very tragic, yet still beautiful.