in
The Big Picture (1989)
Christopher Guest, the king of the "mockumentary" (
Waiting for Guffman
,
Best in Show
,
A Mighty Wind
), made another serious impression with a scathing black comedy called
The Big Picture
that provides entertainment thanks to some imaginative direction and a terrific cast, but ultimately falters due to an over ambitious screenplay that makes some odd detours during the final act.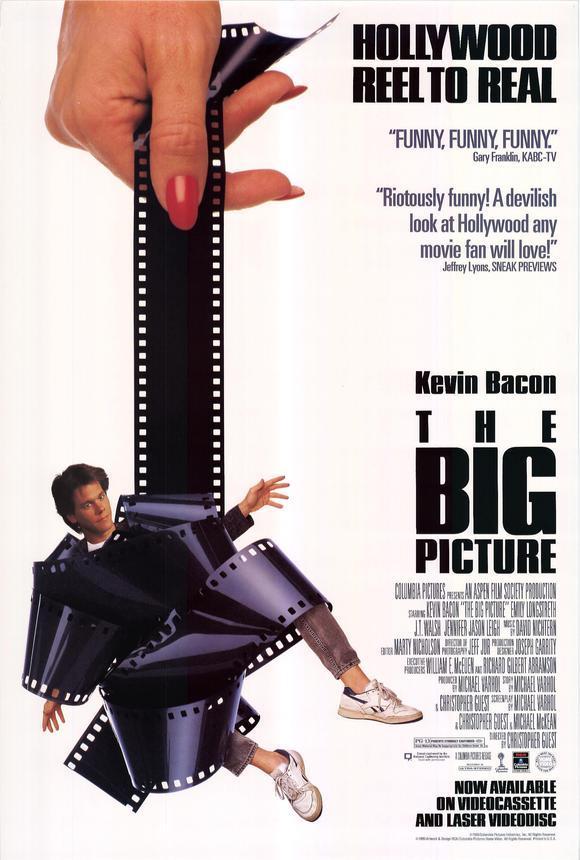 The 1989 film stars Kevin Bacon as Nick Chapman, a film student who wins a major Hollywood film award and is then courted by a pushy studio head who agrees to get his studio behind Nick's vision for his first full-length feature film idea, but wants to make all kinds of changes to Nick's script, which the young filmmaker reluctantly agrees to. Right in the middle of the production, the studio head is abruptly fired and Nick's film is shut down, leaving him penniless and eventually reduced to becoming a messenger to pay the rent until a fellow film student offers him the beginning to a new career.
Guest and co-screenwriters Michael Varhol and Michael McKean (who also appears as Nick's best friend and cinematographer) start off with a clever idea that takes effective jabs at the Hollywood system, like a later Guest film,
For Your Consideration
. Loved the idea of a young filmmaker sacrificing his personal vision in order to get his film made and was looking forward to seeing what finally ended up on the screen, Instead we watch the film get scrapped and our totally likable hero getting eaten up and spit out of Hollywood's mouth and people who were behind him during his project, like an oversexed movie starlet and his flamboyantly neurotic agent, turn their back on him. And then the story does a hard to believe 180 where all of a sudden, Nick gets a new career and he's Hollywood's darling again, including an odd reappearance from the fired studio head.
There is some clever stuff going on here...loved the opening of the student film award being given out with clips of the five nominated films being shown (one of which features Elliott Gould, June Lockhart, Stephen Collins, and Roddy McDowell). There are myriad fantasies touches that don't always work, though I loved when Nick was visualizing his movie to the studio head and it was being shown to the viewer, every time the studio head interrupted, the actors in the fantasy looked at the camera. Also loved that scene where Nick makes his friend get out of the car while he takes a private call from the studio. The detour to the unexpected happy ending just came off as convenient and rushed.
Guest assembled a terrific cast to pull off his vision, some of whom would later become permanent members of his rep company, like McKean. Bacon is utterly charming as Nick Chapman and the late JT Walsh is appropriately smarmy as the studio head. Martin Short garners major laughs as Nick's off the wall agent and Teri Hatcher does a sex on legs turn as the self-absorbed movie starlet. Also enjoyed Jennifer Jason Leigh, Dan Schneider, and Barbra Streisand's son, Jason Gould, as Nick's fellow film students, who all cross his path later on in his life. Guest has a really terrific film in here somewhere and show the promise he would deliver in later years, he just lets this one get away from him a little.