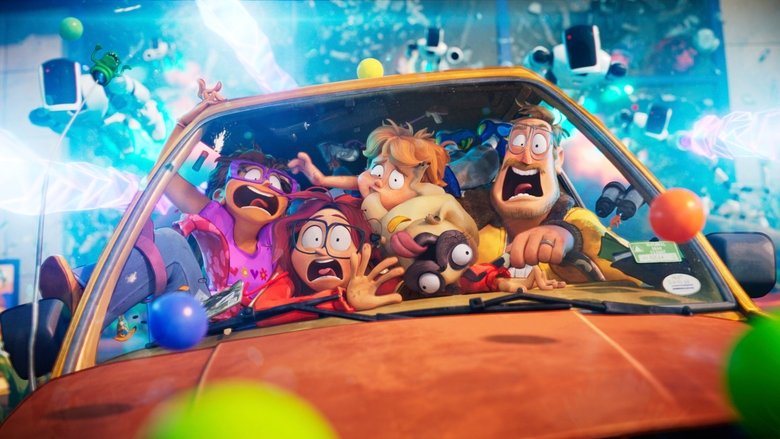 in
The Mitchells vs The Machines
, 2021
Teenager Katie (Abbi Jacobson) can't wait to leave for college. Always having felt like an outsider, she is desperate to find her people. On the eve of her departure, she has an argument with her father, Rick (Danny McBride), a man whose outdoorsy interests have never intersected well with Katie's quirky artistic side. Wanting to have one final bonding experience, Rick cancels her plane ticket and instead decides to drive the whole family cross-country to her college, including mom Linda (Maya Rudolph), little brother Aaron (Mike Rianda), and outlandish pug Monchi. The family is unaware, however, that a beef between tech guru Mark (Eric Andre) and one of his creations (Olivia Colman) may just lead to a robot apocalypse.
This was an unexpected delight, and probably the best kids movie I have seen this year. While many kids movies have increasingly come to lean on meta-jokes, this is a film that takes a very self-aware approach to its animation and structure, but still carves out a meaningful emotional arc for all of its main characters.
Taking maybe a bit from the father-daughter dynamic of
The Croods
, this film does a really good job of making all of the Mitchells real and relatable. Rick doesn't really get Katie's art, and his lack of understanding makes him worried that she will not be successful. Katie interprets this--not entirely incorrectly--as him assuming that she will fail and that her work is not worthwhile.
It was also kind of neat to see a kids movie that had a queer protagonist without the film being about her sexuality. It's a portrayal that is for the most part subtle (and only made explicitly clear at the very end of the film), but also done in a way that other kids going through what Katie went through (the not belonging stuff, not the robot apocalypse) would pick up on it.
I watched this with a group and it was a hit for all of us. Just really solid from beginning to end with plenty of jokes that land and a satisfying series of character arcs that resolve nicely. It also has well-shot action sequences that were easy to follow. There are some very predictable aspects to the film, but they are done well enough that it didn't bother me.
The only downside is that the film's energetic, chaotic feel could sometimes lean on the overwhelming side. But for the most part I didn't mind the frenetic clip, partly because the film tends to break up those hyper sequences with slower, more introspective scenes.