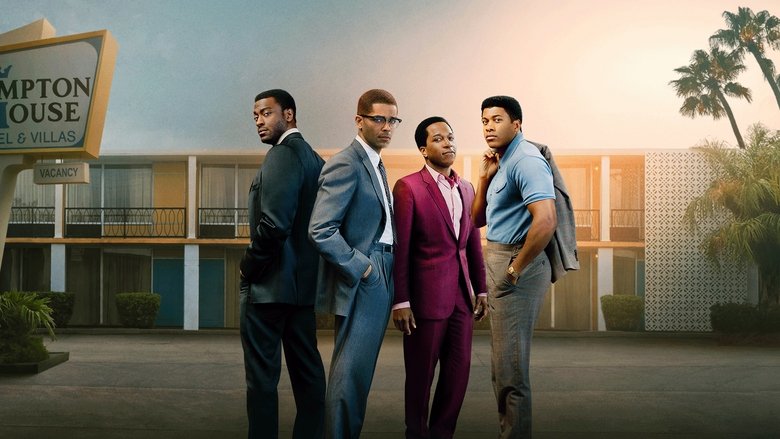 in
One Night in Miami
Oscar winner Regina King (
If Beale Street Could Talk
) makes a solid feature-length directorial debut with her 2020 film version of a play called
One Night in Miami
, a fictional story fashioned around four real life icons in black history that suffers a bit due to a talky script and an air of pretension that seems to taint the director's vision.
Based on a play by Kemp Powers, it's Miami in the 1960's where legendary civil rights leader Malcolm X is anxiously awaiting three guests in a motel room: R&B singer Sam Cooke, heavyweight boxing champion Cassius Clay, and NFL legend Jim Brown. The three men seem to be just as anxious to meet with Malcolm X as he is to meet with them. Unfortunately, what begins as an evening of mutual admiration turns tense and ugly as the legendary civil rights leader begins berating these other three men for selling out for the sake of their own careers and not stepping up as they should in the war for civil rights.
The play upon which this film is based first opened at the Donmar Playhouse in England, which should be a bit of a red flag. This story feels like experimental theater and it's no surprise that it never made it across the pond to Broadway. There's a real danger of alienating an audience when real life historical figures are placed together in a fictional situation...characterizations are muddy and it's often difficult to accept real life people in certain situations. Even though this story is fictional. I do get the impression that, at some point, Malcolm X met with all three of these guys and Powers decided to compile these three separate meetings that Malcolm X had with these three men into a single story.
It's no coincidence that we meet Cooke, Brown, and Clay at major turning points in their lives and careers...Cooke is trying to accept the pandering he has to do with white show business to remain viable; Brown has just left the Cleveland Browns and is getting ready to make his first movie, and Clay has been secretly meeting with X in order to join the nation of Islam. We then witness these three clearly conflicted men actually get browbeaten by Malcolm X for caring more about themselves than the civil rights movement. It seems we're supposed to give X a pass because he's at the point in his work where he is angering a lot of people and requires bodyguards in front of his motel room.
This starts off as a really interesting idea and King's attention to production values and to casting is on the money, but Powers' adaptation of his own play is talky and pretentious, making all four of these guys seem very full of themselves and diluting the message that King and Powers are trying to send. Malcolm X comes off as an arrogant prick who has no right to tell these men about their responsibilities where the civil rights movement is concerned and the character's appeal went completely out the window when Malcolm told Sam Cooke that Bob Dylan's "Blowin in the Wind" was a better song than anything Cooke ever recorded.
King's directorial hand is sensitive and the performances she gets from her hand-picked cast are just sensational, with standout work from Kingsley Ben-Adir as Malcolm X, Leslie Odom Jr., whose Sam Cooke earned him a Golden Globe nomination, and especially Eli Goree, who lights up the screen as Cassius Clay AKA Muhammed Ali. Not the full film experience it should have been, but still well worth seeing.