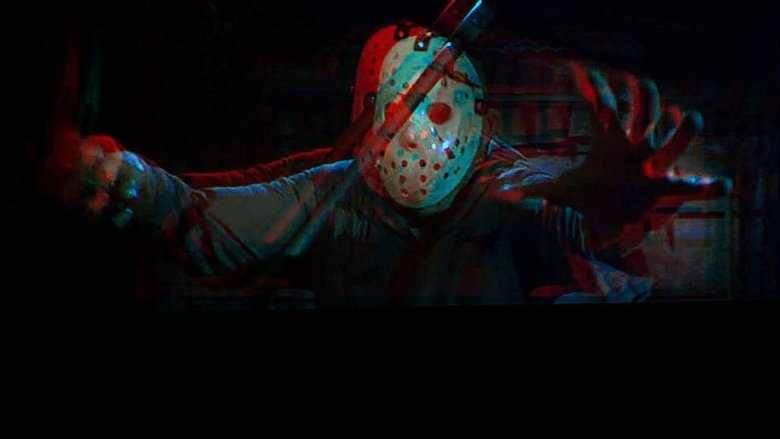 in
Friday the 13th Part III
(1982) - Directed by Steve Miner
"Look upon this omen and go back from once you came! I have warned thee! I have warned thee."
Slasher movies are like pills. Just quickly swallow it and it relieves something for a little will, but despite the ease they don't taste very good. The first one seems like a good idea, but after that it's just there as a routine.
Friday the 13th Part III
continues that same routine from the first two films, but I'm in the minority when I say that
III
is better than
II
because it had a shred of story in it, instead of just being a bunch of predictable and senseless killings.
Soon after the events of
Two
, a young woman who survived an attack from Jason Voorhees returns to Crystal Lake with some friends so that she can confront her fears. Well, she gets more than she bargained for when Jason begins killing again, only this time, he's got his signature hockey mask and a wider assortment of weapons.
And that's pretty much it. Like the previous two entries, there is NOT a lot of story involved in this bit, but I'll admit there's slightly more than the last two. The trauma of the lead character Chris drives most of what's there, and actually adds a little something to look forward to in between learning of the trauma and facing Jason, even though most of what's happening is just more death scenes. There are stock characters that have a little personality to them, but killed off pretty damn quickly. But the death scenes are a little more creative than the ones in
Two
, even though they're just as predictable.
But this positive stuff that I'm going on about is only comparing the film to its predecessor. Otherwise,
Three
is just a bare-bones slasher with stock characters that add little to the story and lacking in the suspense of the first film.
Friday the 13th
is one of those "aesthetic" brands that rely on reputation and normality rather than quality. Budweiser, Burger King, pop music, Sonic the Hedgehog, several news networks I can name, they're all there for making money off of popularity.
Three
proves that
Friday the 13th
very well may be the quintessential example for the entire cinematic industry. Hell, even
The Land Before Time
franchise had some new ideas. Number Eight (
The Big Freeze
) had a new setting change, plot and a little character development.
Well, that's number three for you. It's Budweiser in a bloody bottle. The only thing notable about this movie is that Jason has a hockey mask on for the first time. Otherwise, skip to
Four
.