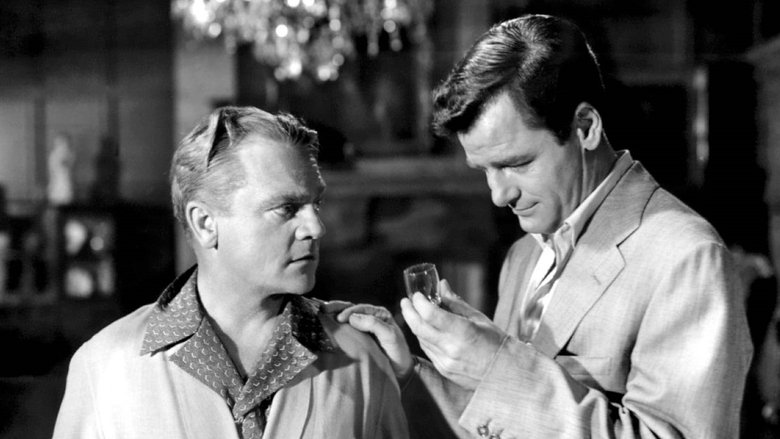 in
Come Fill the Cup
Alcoholism is not an uncommon subject for films, but so many of them send inaccurate messages about the disease or sacrifice the realities of the disease in favor of entertainment. A powerhouse melodrama from 1951 called
Come Fill the Cup
is a superior look at the disease, thanks to a solid screenplay based in the realities of alcoholism and a pair of 100-megawatt performances from James Cagney and Gig Young.
Cagney plays Lew March, a newspaper reporter who lost his job after a five day bender but eventually gets sober. After six years of sobriety, March is tapped by his boss, John Ives (Raymond Massey) to help Ives' nephew, Boyd (Young), a talented musician, get sober.
If the truth be told, the real star of this film is a near brilliant screenplay by Ivan Goff and Ben Roberts that nails a lot of the realities of alcoholism that films like
The Lost Weekend
,
Smash-Up: The Story of a Woman
, and even
Days of Wine and Roses
don't. Primarily, the fact that an alcoholic is not going to stop drinking until he hits a bottom, which is different for each drinker. And more importantly, that there is no cure for alcoholism. Just because someone stops drinking, he doesn't stop being an alcoholic. This screenplay also makes it clear that one drunk cannot stop another drunk from drinking, but on the flip side of that coin, the best way for a sober drunk to stay sober is to help another drunk through sharing his own experience. All the myths regarding the disease are represented through the John Ives character, who is clueless about how to help his nephew, thinking he can throw money at the problem.
The screenplay begins with one of the most perfectly executed pieces of exposition I've seen in a movie on the subject. We see March return to his job after his bender to find his desk cleaned off and then decide to drown his sorrows, then flashing back to his first visit to the same bar. Most movie exposition goes on too long or is inefficient, but the screentime devoted to exposition here is on the money.
The film is shot on a shoestring budget in simple black and white and other minimal production values. However, as what often occurs in a story this powerful, the minimal attention to production enhances the power of the story. James Cagney's performance is effectively reined in and Gig Young's flashy performance as Boyd earned him the first of his three Oscar nominations for Best Supporting Actor (he would have to wait 19 years to actually nab the statuette for
They Shoot Horses Don't They
). James Gleason is wonderful as Lew's sponsor Charley and there are brief appearances from Sheldon Leonard doing his patented gangster turn and Kathleen Freeman as a switchboard operator. This film seemed to get lost in the cinematic shuffle because it was released during what was probably the second most important year in movie history, but it definitely deserves more attention than it's received.