\
in
South Pacific (1958)
Though it features one of Rodgers and Hammerstein's most memorable scores, the 1958 film version of
South Pacific
is a long lumbering screen version of the stage classic that suffers from leaden direction, mostly mediocre performances, and a serious lack of pacing that makes the movie seem six hours long. This is the first movie since
The Happiest Millionaire
where I think I had a birthday during the running time.
This musical is about the romance between a WWII army nurse named Nellie Forbush (Mitzi Gaynor) and a mysterious French plantation owner named Emile DeBecque (Rossano Brazzi) whose romance hits a snag when she learns DeBecque has two Polynesian children. It's also about an idealistic young soldier named Lt. Joe Cable (John Kerr) who falls for a pretty Island girl named Liat (France Nuyen, in her film debut), who is being pimped out by her hustling mother Bloody Mary (Juanita Hall). It's also about the US Navy trying to recruit Debecque to participate in a secret mission for them and trying to get Nellie to use her influence to make it happen.
Not sure why this musical made such a messy transition to the big screen. It was a smash when it premiered on Broadway in 1949 with Mary Martin playing Nellie, running for over 1900 performances. It's been revived on Broadway several times and has always had successful runs so imagine my surprise at being bored to death by this film. Director Josh Logan has to take a lion's share of the blame because the movie moves at snail's pace and there's just too much going on plot-wise here for the film not to move with some semblance of speed.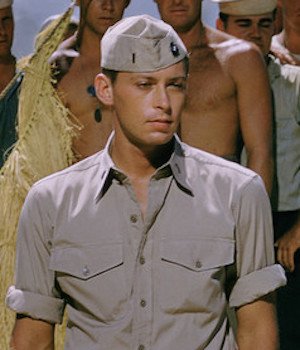 There are problems with casting as well. Though she works very hard in the role, Mitzi Gaynor never really convinces as an adult nurse in the navy. She comes off like a 16-year old playing dress up. Every moment she was onscreen, the only thing that kept going through my head was "Doris Day should have been playing this part." Rossano Brazzi was no prize either as DeBecque, which brings up another point...all the times this show has been revived, why has a French actor NEVER been cast as Emile Debecque? John Kerr worked non-stop during the 1950's and I've never understood why. The only completely satisfying performance for me in the film came from the inimitable Ray Walston as Luther Billis.
One thing I will give Gaynor is that she is the only lead who did her own singing. According to the IMDB, this film features more actors' singing dubbed than any other film version of a Rodgers and Hammerstein musical. One history making event on this subject, is that Giorgio Tozzi, who sang for Rossano Brazzi, actually received onscreen billing for his work here, a cinematic first I'm sure. Except for Tozzi, even the dubbing is second rate...Bill Lee, who sang for John Kerr, didn't sound anything like Kerr and his voice sounded weird coming out of Kerr.
Despite all the problems with this film you can't beat that score: "Bali Hai", "Younger than Springtime", "There is Nothing Like a Dame", "Wash that Man Right Outta My Hair", "Some Enchanted Evening". "A Wonderful Guy", "This Nearly Was Mine", "A Cockeyed Optimist", and the haunting "You've Got to Be Carefully Taught." And what was Logan thinking with all the color changing photography throughout the film. I guess it was supposed to set particular moods, but it was just annoying and often pulled focus from what was actually going on with the actors. For a serious lover of movie musicals, this was a real disappointment. ABC remade the movie in 2001 with Glenn Close as Nellie and the late Robert Pastorelli as Billis. Circa 2006, a concert version of the musical was presented at Carnegie Hall with Reba McIntire as Nellie and Alec Baldwin as Billis and both of those versions were superior to this one.