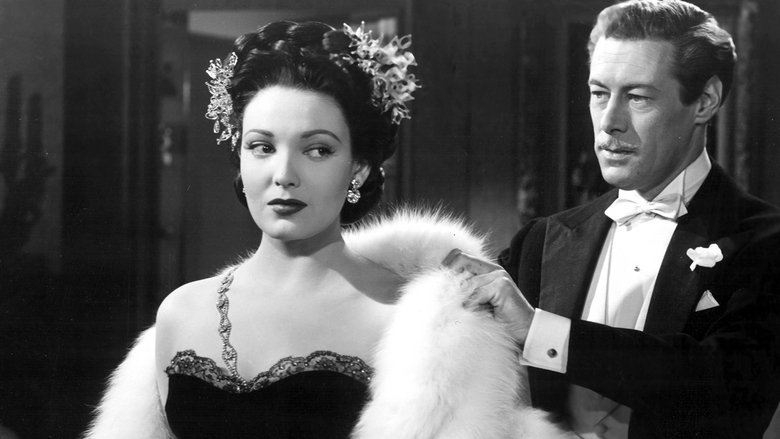 \
in
Unfaithfully Yours (1948)
Preston Sturges, the creative force behind
Sullivan's Travels
and
The Miracle of Morgan's Creek
, scores another bullseye with 1948's
Unfaithfully Yours
, a deliciously black comedy that provides edgy fun thanks to Sturges' work behind the camera and Rex Harrison's work in front.
Harrison plays Sir Alfred De Carter, an arrogant and sexist symphony conductor who suspects that his beautiful young wife, Daphne (Linda Darnell) is having an affair with his personal secretary. One night while conducting the symphony with his wife in the audience, Sir Alfred has a three-part fantasy about how to get revenge on Daphne and after the symphony is over, decides to make his fantasy a reality but it doesn't go quite as smoothly as it did in his fantasy.
Sturges' near brilliant screenplay and meticulous direction manage to create viable suspicions in the mind of the central character while simultaneously showing the viewer that the evidence he thinks he has against her is circumstantial. Sturges displays a keen affinity regarding starched British aristocracy and the expected sexism that's expected of this period. It's clear that Sir Alfred thinks of Daphne more as a possession than a soulmate and more than once uses the phrase " a man's home is his castle", while rebuffing every attempt by Daphne to comfort and reassure him. The dialogue is crisp and witty and aids in the rapid pacing in the story.
The other standout element here is the razor sharp performance by Rex Harrison in the title role. With the aid of Sturges sure-footed direction, Rex Harrison manages to effortlessly blend the arrogant sophistication of Henry Higgins with some Jerry Lewis-calibre physical comedy that's hard to resist. The final act where Sir Alfred is struggling with the fancy recording machine in order to scare his bride had me on the floor. I never imagined Rex Harrison making me laugh so hard.
The film features lovely black and white photography and some stunning costumes for Darnell by Oleg Cassini. Lionel Stander was very funny as Sir Alfred's manager as was Barbara Lawrence as Daphne's sister. A severely underrated classic that deserves more attention. Remade in 1979 with Dudley Moore and Natassia Kinski taking over the Harrison/Darnell roles.