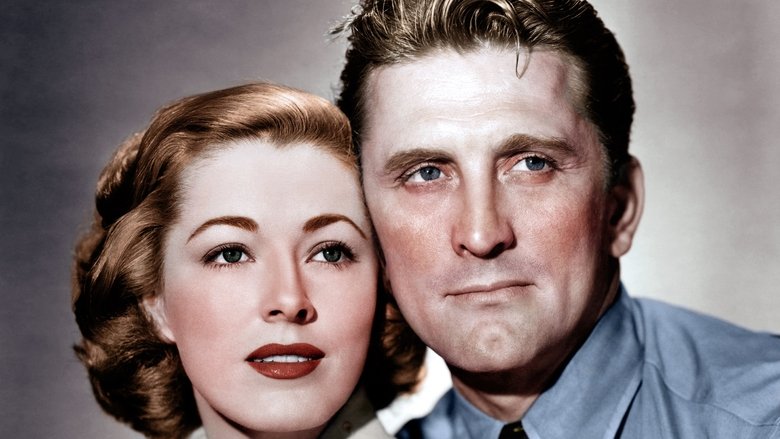 \
in
Detective Story
With a three-time Oscar winner in the director's chair and a brilliant ensemble cast in front of the camera, the 1951 classic
Detective Story
, is a mostly compelling look at life inside of a police precinct that falters at the finish line with an overly dramatic finale that was hard to swallow.
An effective blend of crime drama and character study, this film chronicles one day in the lives of police detectives and criminals in the dingy 21st precinct, centered around a hard-nosed and principled police detective named Mike MacLeod (Kirk Douglas) who is currently in the center of three cases: there are a pair of burglars (Joseph Wiseman, Michael Strong) who MacLeod is convinced he can get to turn on each other; a young man (Craig Hill), who has embezzled money from his company, his first offense, for which he is wracked with guilt and the main case, a Dr. Karl Schneider (George Macready), a doctor who has been performing illegal abortions, that have resulted in the deaths of several women. Mike's one-sided view of the law is challenged forever when he discovers that his wife (Eleanor Parker) is personally involved with one of the cases.
This is a film version of a play by Sidney Kingsley that opened on Broadway in March of 1949 starring Ralph Bellamy as Mike and Meg Mundy as his wife and ran for 581 performances. It never really escapes its stage origins, evidenced in the entire story taking place inside the precinct, but it doesn't make the story any less compelling. If the truth be told, the claustrophobic atmosphere created here only heightens the tension of the story.
Though the story is populated with various criminal lowlifes, this is really an up close look at this detective Mike MacLeod, whose view of the law is strictly black and white. As the story progresses, we watch MacLeod learn that cases don't always go the way they are supposed to as a bribed witness (a fabulous cameo by Gladys George) compromises one case and everyone wants him to give the young embezzler a pass, a young kid wet behind the ears who knew what he did was wrong the second he did it. A reveal of Mike's troubled childhood offers insight into why he is the way he is, but it doesn't excuse a lot of his behavior here, and with all the criminals present, MacLeod definitely pays more consequences for his behavior than anyone else, especially in the silly finale where he thinks he's Superman.
The legendary William Wyler guides this story with a focused intensity, using his camera and the character of a frightened young shoplifter (Lee Grant) to let us inside this story and what these people are going through.
The film received four Oscar nominations for Wyler, screenwriters Phillip Yordan and Robert Wyler, Eleanor Parker for Best Actress and Lee Grant, in her film debut, as Best Supporting Actress. Unfortunately, after this role, Grant's movie career was stalled because of the communist blacklisting. William Bendix as veteran detective Lou Brody and Wiseman as one of the burglars also do Oscar-worthy work. Exquisite black and photography is the finishing touch on this classic that despite a corny finale, is still compelling screen entertainment.