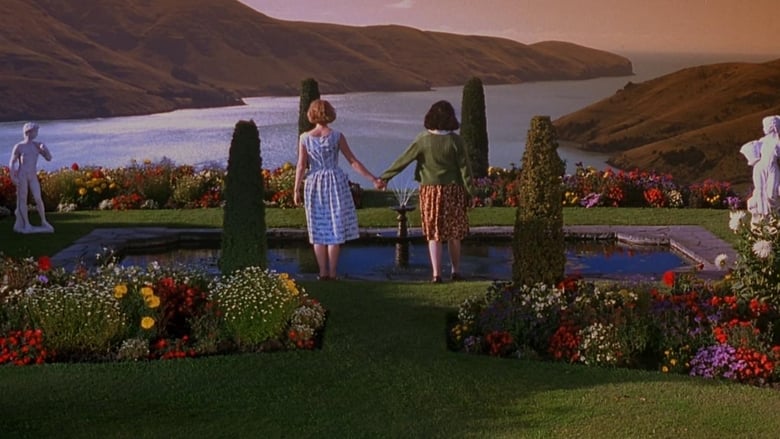 in
Heavenly Creatures
A decade before winning twin Oscars for co-writing and directing
The Lord of the Rings: Return of the King
, Peter Jackson put his imagination in overdrive and applied it to a real-life murder case and came up with a disturbing and riveting cinematic acid trip called
Heavenly Creatures
, which crafts an extraordinary cinematic universe around a rather simple story and lets the viewer form their own opinion regarding exactly what's going on here.
This 1994 melange of fantasy, friendship and family dysfunction begins in 1953 New Zealand where two students at an all girls high school, Juliet (Oscar winner Kate Winslet) and Pauline (Melanie Lynskey) meet and become immediate best friends, but this friendship goes far beyond the normal high school friends. The girls initially bond over issues they are both having with their parents, but they become inseparable, to the point of being considered unhealthy. Once their parents decide that they need to be separated, it only strengthens their bond and threatens to destroy both girls' families.
Jackson and Fran Walsh, who also collaborated on the
Lord of the Rings
screenplay received their first Oscar nomination for this fascinating, head-spinning story that builds an elaborate and fantastical drama around what is, on the surface, an ordinary murder. Jackson and Walsh apparently based their screenplay on Pauline's actual diary which was rich with the girl's highly stylized and theatrical look at her relationship with Juliet, perfectly balanced with the anger that was quietly bubbling to the surface regarding her parents and their attempt at keeping her and Juliet apart.
And it is the relationship between Juliet and Pauline that is the most interesting aspect of the film, primarily because Jackson and Walsh never make a full commitment to exactly what the relationship is. They start off as best friends, but we know there's something more when they both come to the conclusion that they are both insane and think there's no problem with that, thinking the rest of the world insane. The screenplay goes a step further, implying that the relationship might be sexual, but at this point of the story, the fantasy elements of the story are so seamlessly mingled with the reality of the relationship that we're really not sure what the extent of the relationship is and that's no accident. It seems as if Jackson wants the viewer to decide what this relationship is all about, providing evidence to support any hypothesis that might enter the viewer's mind.
Jackson's direction is endlessly imaginative, rich with dizzying camerawork, including splendid use of the steady cam, not to mention an uncanny use of the close-up, which actually allows us to look inside the heads of these two girls, if only so far.
The film is exquisitely photographed and edited, featuring an unusual song score, consisting primary of 1950's leading movie tenor, Mario Lanza. Jackson also manages to retrieve a pair of dazzling performances from Winslet and especially Melanie Lynskey as Juliet and Pauline, respectively. Those who only know Lynskey from her role as psycho Rose on the CBS sitcom
Two and Half Men
, will be in for quite the shock here, proving to be an actress of extraordinary depth. Diane Kent also impressed as Juliet's mother. A bizarre and fascinating cinematic journey that doesn't answer all of the questions it asks and that is no accident.