\
in
The King of Staten Island
SNL's Pete Davidson makes a surprisingly edgy debut as the star and co-screenwriter of
The King of Staten Island
, a semi-autobiographical look at the young star that is absolutely nothing I expected from the young comic, other than a charismatic performance playing an unsympathetic character.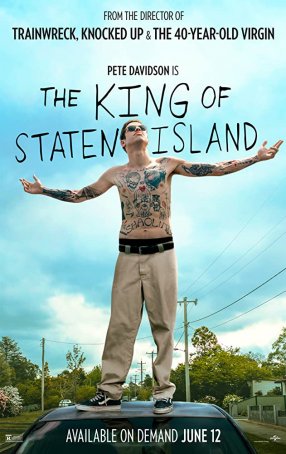 The 2020 film finds Davidson playing Scott Carlin, an angry 24-year old young man who lives in Staten Island with his mother and sister. Scott's father was a fireman who died in the line of duty when Scott was seven and Scott has never really dealt with his feelings about what happened, which has resulted in Scott being an unemployed bum who lays around the house smoking weed with his homies all day and dreams of being a professional tattoo artist while his mother works herself to the bone as an ER nurse. Scott's lazy and pointless existence is threatened when his mother begins a relationship with a fireman who actually used to work with Scott's father.
Director and co-screenwriter Judd Apatow have collaborated on this inside look at the Pete Davidson nobody really knows who is a lot angrier than the nutty characters Davidson has created on SNL. We know that at least part of Scott's backstory is borrowed from Davidson, whose father was a fireman who died during 9/11, but we're not sure whatever else happens in this film is based on fact. What we do know is that Apatow and Davidson have created an extremely unlikable lead character for which they offer little protection. Scott is a spoiled brat who lies at home sponging off his mother and making no effort to make a life for himself. Anyone who has seen the 2001 film
Baby Boy
will understand a lot of what's going on with this kid, Scott. The difference between Scott and the Jody character in
Baby Boy
is that Scott makes no attempt to hide or rationalize the life he's living like Jody does in
Baby Boy
.
The story is told in a series of vignettes, little chapters from Scott's life but we really don't know which are actually things that happened in Pete Davidson's life and which are not. What we do know for sure that this central character has some serious issues that he has not dealt with and is blaming everyone else in the world for the meaningless vacuum that he has been living in.
With proven comedic artists like Judd Apatow behind the camera and Davidson in front, I know I expected a lot more laughs going into this than I actually got, but I do know that I found myself riveted to the story and never found myself checking my watch, despite Apatow's accustomed self-indulgence that makes this film, like most his films, about 30 minutes longer than it needed to be.
Davidson's unapologetic and often explosive performance in the starring role is, at times, startling but effective, even though we never really sympathize with the character. Oscar winner Marisa Tomei is superb as is mother as is Bill Burr as the fireman she starts dating. Steve Buscemi and Dominick Lombardozzi also score as fellow firemen who knew Scott's dad. Apatow's daughter, Maude, also impresses as Scott's sister as does Bel Powley as Scott's brassy girlfriend. It ventures into real unpleasantness at times and goes on a little longer than it needs to, but Davidson proves to be a filmmaker to watch.
Note
: Scott is the first name of Davidson's real dad.