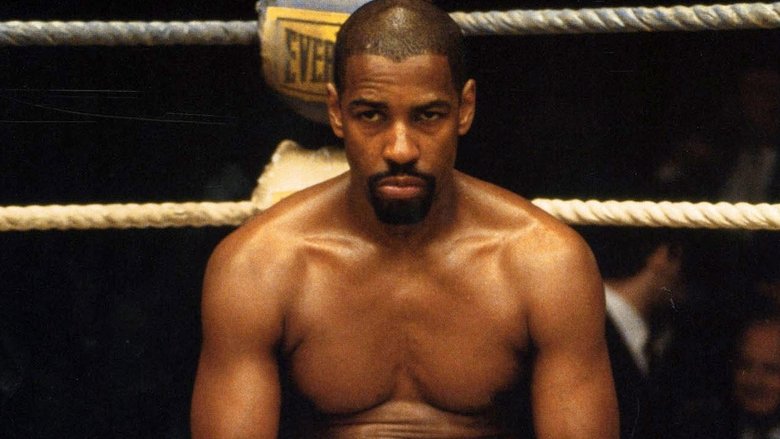 \
in
The Hurricane (1999)
The accustomed powerhouse performance from two-time Oscar winner Denzel Washington raises the bar on 1999's
The Hurricane
, am elaborately mounted and overly-detailed look at the life of former middleweight boxing champion Rubin "Hurricane" Carter, who spent almost 20 years in prison for crimes he did not commit.
Carter's life is documented from his childhood to a life that found him in and out of prison until he was arrested for the murder of three people in a bar in is hometown of Paterson, New Jersey. While incarcerated, as a partial way of dealing with his ordeal, writes a book about his life. The book is discovered years later in a 25 cent bin by a barely literate black teen named Lesra, who is living in Canada with three white guardians. Carter and the boy correspond and eventually meet and then, with the help of his guardians, decide to prove Carter's innocence.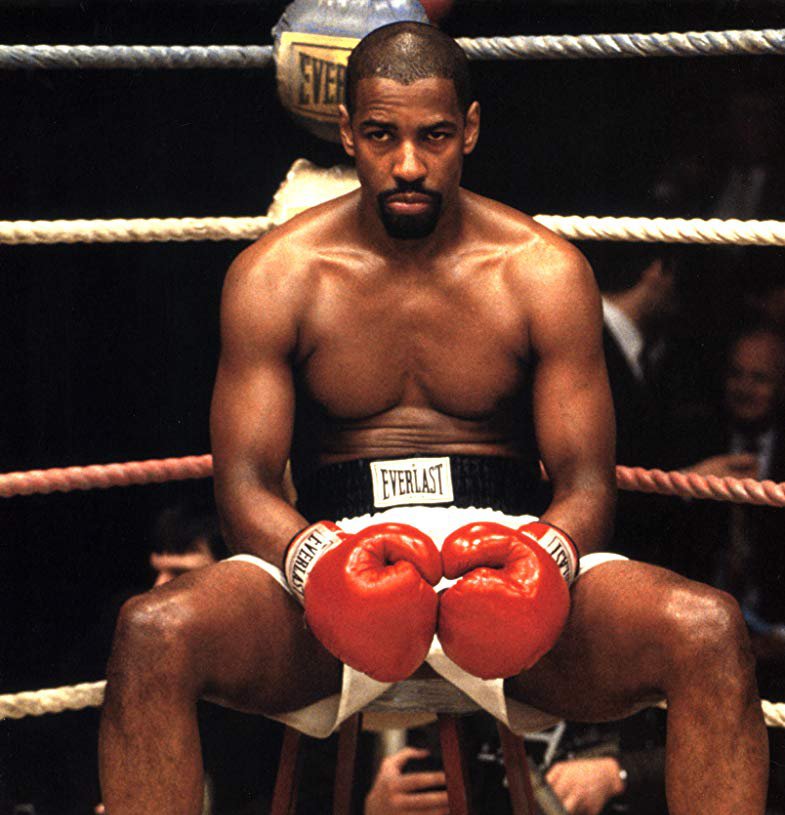 As one might expect, this is a story that is taught with racial tension and it has been put in the capable hands of veteran director Norman Jewison, who directed one of the greatest films ever centering around racial tension, 1967's
In the Heat of the Night
. Jewison efficiently keeps the racial tension as an undercurrent bubbling underneath the surface of what is really an often fascinating character study of a man who was so adamant about his innocence that he refused to live the life of a normal prisoner. He would not wear or eat what other prisoners did and would only sleep when the rest of the prison population was awake. These are, easily, the most interesting scenes in the film that give us insight into the principled and intelligent man Carter was.
Unfortunately, the final third of the film degenerates into a murky crime drama peppered with large doses of melodrama where we watch the Canadians prove Carter's innocence in 20 minutes, while police and courts refuse to budge in their decision since Carter was convicted in 2 different jury trials where the juries were all white. Needless to say, this makes for what is an often labored cinematic journey, but we are so behind Rubin by this time that we want to experience the outcome.
We patiently wait for the outcome because of the extraordinary performance by Denzel Washington in the title role that so rivets the viewer to the screen that we are able to forgive a lot of what is wrong with this movie. The supporting cast serve the story effectively, especially Liev Schreiber, Deborah Kara Unger, and John Hannah as the Canadian guardians, David Paymer and Harris Yulin as Rubin's lawyers and young Vicellous Reon Shannon as Lesra. There is also a classy cameo at the end of the film by Rod Steiger, who Jewison directed to a Best Actor Oscar in
In the Heat of the Night
. What we have here is two thirds of a really incredible film that is saved by its star.