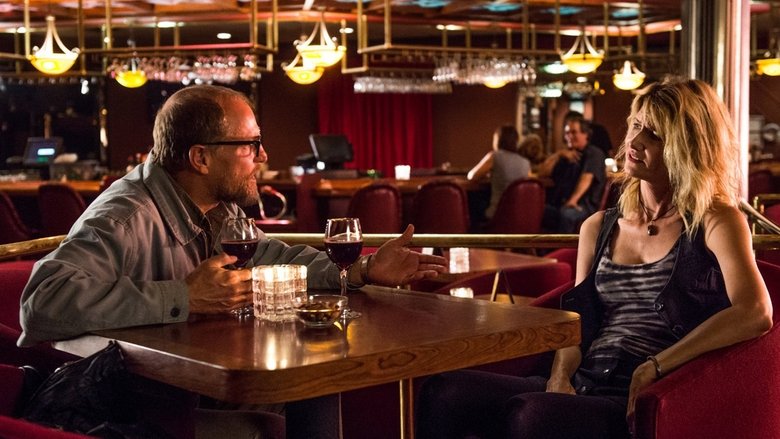 \
in
Wilson (2017)
Three-time Oscar nominee Woody Harrelson made the most of an acting showcase of a lifetime with
Wilson
, a 2017 comic character study whose unexpected and unmotivated detour into maudlin melodrama during its final third dilutes the sporadic quality of what we've seen up to that point.
Wilson is lonely, foul-mouth contemporary hermit who would rather have conversations on a bus with a stranger than connect with people who actually know him. The sudden death of his father sends him on a journey that finds him reuniting with his former addict/ex-wife Pippi, who confesses to Wilson that he has a 17 year old daughter that Pippi gave up for adoption at birth. Wilson becomes obsessed with finding his daughter and, upon doing so, goes to extreme lengths to connect with her and reunite his family.
Daniel Clowes' screenplay, based on his own graphic novel, gets off to a very amusing start by firmly establishing this singularly unique character who speaks and acts without filter to everyone, friends, family, and strangers. His often shocking behavior is hard to accept but we find ourselves siding with the character when he begins establishing a relationship with his daughter. Unfortunately, the film takes a dark turn during the final third where the story craps all over the central character and the humor of the story quietly begins to circle the drain, making the character's transition into an almost viable human being a little hard to believe, including an ending that wraps up in a way too neat little bow.
Director Craig Johnson (
The Skeleton Twins
) brings care and attention to the title character, but I wish he had collaborated more closely with screenwriter Clowes because it felt like there were portions of the story that were left off screen but maybe shouldn't have been. The point where the film turns to pure melodrama is also the point where it seems like parts of the story may have been deleted for the sake of running time but would have made what happens in the final third a little more logical.
Despite all the problems with the story, the gloriously flamboyant performance by Woody Harrelson does keep the viewer invested in what's going on. We never know what this guy is going to do or say and he somehow remains likable. This role is an actor's dream and Harrelson makes the most of it. This year's Best Supporting Actress winner, Laura Dern, is also terrific as Pippi and mention should also be made of a star-making performance by Isabella Amara as Wilson's daughter and a terrific cameo by Margo Martindale near the beginning of the film. The story definitely has its problems, but fans of Woody Harrelson will definitely find entertainment value. His performance upped the rating on this one half a bag of popcorn.