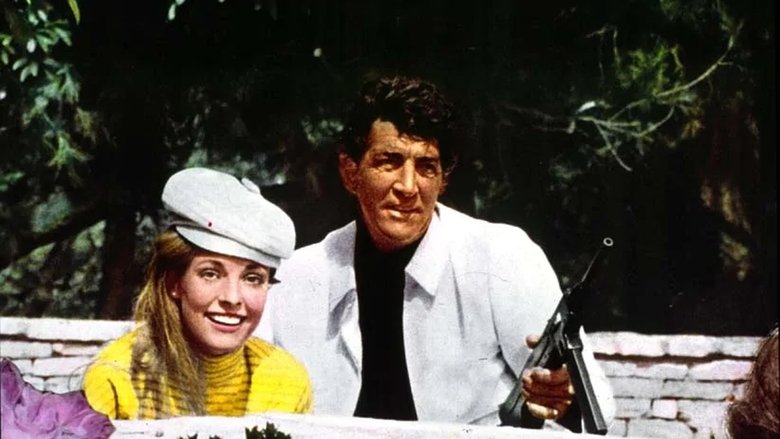 in
The Wrecking Crew (1968)
Dean Martin made his fourth and final film appearance as super spy Matt Helm in a campy 1968 adventure called
The Wrecking Crew
that was definitely the most enjoyable Matt Helm adventure since
The Silencers
.
In this film, Matt has been assigned to retrieve a billion dollars in gold that has been stolen by a millionaire/madman named Count Massimo Contini (Nigel Green) from a train in Copenhagen en route to London. The Count has a trio of deadly females (Elke Sommar, Nancy Kwan, Tina Louise) in his corner to help distract our hero and the British government has sent an agent named Freya Carlson (Sharon Tate) to help Matt, but she turns out to be a lot more trouble than help.
I can't lie, this movie was a whole lot of fun, thanks to William McGiven's screenplay that was a lot simpler than the previous two Helm films and due to a serious shot of female star power. We get everything that we're accustomed to from a Matt Helm movie...a script with sexual double entendres, wall to wall females, outrageous set pieces, including a new secret weapon provided for Matt in the form of a bomb wrapped in a blank handkerchief that Matt referred to as "hankie pankies".
The real surprise and pleasure of this film was the performance by Sharon Tate as Agent Carlson, a role very similar to the role Stella Stevens played in
The Silencers
(they even made the character a redhead like Stevens' character). I overlooked the fact that Tate didn't even attempt an accent even though her character was supposed to be British, but Tate definitely understood her character and provided perfect comedy relief throughout, which included a prominent amount of camera time focused on Tate's well-shaped posterior.
Sommar, Kwan, and Louise were sizzling femme fatales, though Louise's attempt at an accent was laughable, she should have passed on that the way Tate did. Nigel Green was on the bland side as the Count and James Gregory was sorely missed as McDonald, but this was a lot more fun that I though it was going to be. It should be noted that after the final scene, an onscreen announcement of the next Matt Helm adventure was shown called
The Ravagers
, but that film was never to be.