\
in
Gold Diggers of 1933
Released the same year as the classic
42nd Street
,
Gold Diggers of 1933
surpasses that film thanks to a much meatier story that never gets in the way of those incredible production numbers from mad genius Busby Berkley.
Carol (Joan Blondell), Trixie (Aline MacMahon), Polly (Ruby Keeler), and Fay (Ginger Rogers) are four unemployed showgirls who live next door to an aspiring songwriter named Brad (Dick Powell). Producer Barney Hopkins (Ned Sparks) has an idea for a new show, but no money. Brad mysteriously agrees to back the show upon the conditions that Polly be given a leading role and that Brad doesn't appear onstage. Trixie and Carol discover a story about a crime that leads them to suspect that the money Brad puts up for the show is stolen and that's why he doesn't want to appear onstage even though Barney insists that he do.
The male lead in the show gets sick and Brad does have to step into the show after all, much to the delight of Polly, who is nuts about the guy. It is then revealed the reason Brad didn't want to appear onstage is that he's from a very wealthy family who think show business is sinful and that show girls are ruthless parasites. Brad's older brother (Warren William) comes to New York with the family lawyer (Guy Kibbee) to talk Brad out of being in show business and marrying Polly. Big brother decides the only way to prove his point is to make Polly fall in love with him, but he ends up mistaking Carol for Polly and falls for her instead.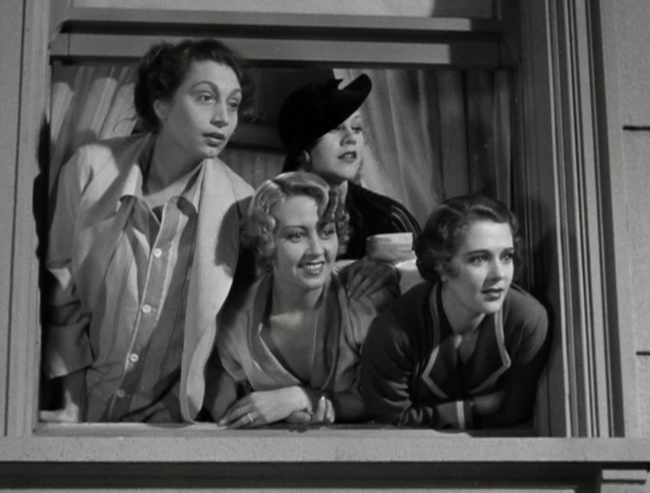 This movie was a delicious surprise that had me thoroughly entertained from opening to closing credits. This is one of the few early musicals where the story is front and center, instead of a bunch of musical numbers with dialogue inserted around them. The story actually leaves the confines of the Broadway theater at times, but still remains a completely theatrical story about the people who have no qualms about starving if it will aid in their road to becoming a star.
Of course, there are elements of the basic premise that look silly in 2019. Needless to say there is no way four unemployed women could afford a two bedroom apartment in Manhattan. We don't even see a landlord bothering them about the rent, though we do get to see a note slipped under their door reminding them and also glimpse Trixie stealing a bottle of milk from a neighboring apartment, but in 2019 these women would have been on the street, but this movie doesn't take place in 2019, thank God.
Busby Berkley's genius as a choreographer was in serious overdrive for the musical numbers. "We're in the Money" featuring Ginger Rogers singing in Pig Latin, features the entire set and all the costumes covered in coins; "Pettin in the Park" is probably the first musical number I've ever seen in a musical that actually features changes in the weather and the season during the number; and
The Shadow Waltz
features glow in the dark violins. And let's not forget the memorable finale, "Remember My Forgotten Man", led by Joan Blondell, a stunning tribute to the military which features a couple of hundred dancers on a set that would never fit in an actual Broadway theater.
The performances actually remain surprisingly fresh. Joan Blondell is a lot of fun and, of course, Dick and Ruby are adorable together, but it is Aline MacMahon who steals the show, in a performance that puts acclaimed wisecrackers like Eve Arden and Thelma Ritter to shame. It's so much fun when a film surpasses my expectations and this one definitely did. What a treat.