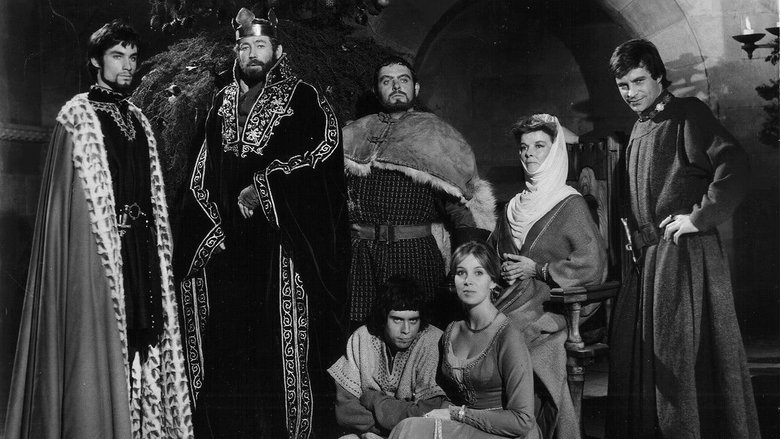 in
The Lion in Winter
Robbed of the 1968 Oscar for Best Picture,
The Lion in Winter
is an intimate story of love, greed, politics, betrayal, and family dysfunction told on a breathtaking canvas, rich with the wit of Oscar Wilde and the tragedy of Shakespeare, not to mention a pair of leading performances which defy description.
It is 1183 AD as the viewer is boldly introduced to the primary players on this cinematic chessboard: King Henry II (Peter O'Toole) is the conflicted monarch trying to decide which of his three sons will inherit the crown; Eleanor of Aquitaine (Katharine Hepburn) is the queen in name only who is kept prisoner in a dungeon but is released and brought to the castle for this Christmas celebration; Richard (Anthony Hopkins) is Eleanor's choice to inherit the throne; John (Nigel Terry) is the whiny youngest son who insists that he's Daddy's favorite and therefore the crown will automatically be his; Geoffrey (John Castle) is the son lost in the middle who thinks his parents hate him; Phillip II (Timothy Dalton) is French royalty who is the son of Henry's oldest friend and good friend to Richard who is after the Aquitaine, the large,valuable parcel of land that belongs to Eleanor and Alais (Jane Merrow) is Henry's mistress who has been promised in marriage to Richard in order to distract him from the throne.
James Goldman won an Oscar for his brilliant adaptation of his own play for the screen, which beautifully expands the story beyond the confines of a stage and makes this movie look like an actual movie. Though the characters here are actual historical figures, this story and the events presented within are fictional. This movie also fascinates with its often bristling humor and sophisticated wit that actually provides the occasional chuckle to a story that, on the surface, is very serious. Goldman's screenplay is rich with humor and humanity and never talks above its audience, the way Shakespeare sometimes does, but does provide a Shakespearean atmosphere to the proceedings that requires attention from the viewer that is rewarded in spades.
It is the relationship between Henry and Eleanor that fuels this drama, a relationship unlike anything I have ever seen. It was rather unsettling that the first glimpse we get of Eleanor is in a dungeon and even more unsettling to learn that she is only released from her prison on holidays. Henry and Eleanor are explosive and venomous and are acutely aware of each other's achille's heels and know how to hurt each other, but no matter how vicious the mud that is slung between them becomes and it becomes quite ugly at times, there is love between these two people that politics and time and jealousy cannot erase.
Director Anthony Harvey has mounted this sizzling story with a great deal of care and respect for the project applying first rate production values, including beautiful cinematography, art direction/set direction and costumes and John Barry won an Oscar for his magnificent music. Peter O'Toole was robbed of a Best Actor Oscar for his ferocious and funny Henry and with her delicately nuanced Eleanor of Aquitaine, Katharine Hepburn became the third actor to win back to back lead Oscars and the first actor to win three lead actor Oscars. She was also part of the first ever tie in the category, sharing the Oscar with Barbra Streisand for
Funny Girl
. Hopkins and Dalton are solid and show a glimmer of the actors they would become, but it's the work of Harvey, Goldman, O'Toole, and Hepburn that make this movie appointment viewing. The movie was remade for TV in 2003 with Glenn Close as Eleanor and Patrick Stewart as Henry.