in
Rocketman
The life and music of the legendary Elton John come to the big screen in a dazzling and endlessly imaginative musical epic called
Rocketman
that breaks all the rules of making musical biopics, producing a respectful,loving, and deliciously entertaining valentine to the subject.
This one of a kind biopic chronicles Elton's humble beginnings as young Reggie Dwight, a young piano prodigy who was deeply troubled by his parents' dysfunctional marriage, his introduction to writing partner Bernie Taupin, his first professional gig at the Troubador in LA, the rise to fame and fortune, a rocky and disturbing journey thanks to his never-ending conflict with his mother and the pain caused by his sexual orientation and his initial denial regarding same. Of course, his history with drugs and alcohol are also addressed and are even utilized as the hook upon which the story is presented.
This basic outline doesn't even scratch the surface of the amazing cinematic journey anchored by Lee Hall's imaginative screenplay. If you're looking for a typical musical biopic and just a look at the facts of Elton John's life, you've got the wrong movie. This movie does not take the typical route of a biopic. As events are presented, they morph into musical numbers, but each number is presented in a different way. In
Bohemian Rhapsody
, most of the musical scenes revolved around how the songs were created or concert performances. In this film, each musical number is a story in itself...the only song we see created is ":Your Song". The rest of the numbers are presented as fantasy sequences, inner dialogues of the central character, musical narratives that advance the plot, and concert sequences are clever intertwined with each number. There are a couple of numbers that are presented as if Elton is a character in another musical. One number even begins underwater! Nothing is sacred here.
Even with all the musical pyrotechnics involved in giving us the music we all know and love, the screenplay also gives us insight into Elton's inner demons. There is an underlying theme throughout the film centered around Elton's self-loathing and the pain that the relationship with his mother manifested. Yes, this is another portrait of an artist whose pain is presented through his art, but it's done with such style here.
I was impressed with the way the film dealt with Elton's sexuality. It's addressed directly, but it isn't shoved down our throats either. There are three different scenes where Elton comes out to people and he gets three completely different reactions. I loved the one moment where he tries to kiss Bernie and Bernie says he loves him, but not in that way...that was it. There is a scene of him in bed with longtime manager/lover John Reid that is tastefully done and I love the look on his face at the end of this scene...it's the first moment in the film where Elton looks really happy.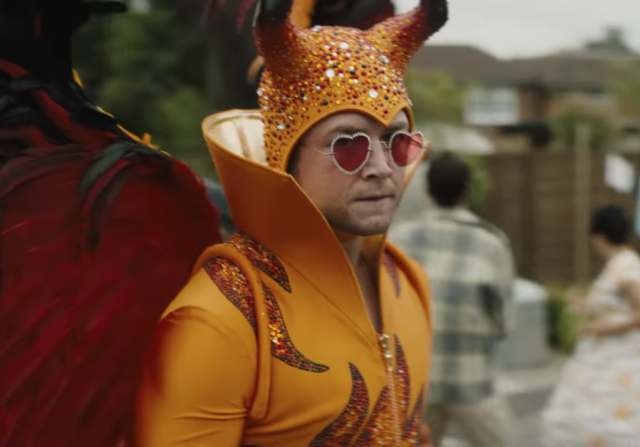 All of the Elton music that we want to hear pops up here but the fun thing about this movie is we never know exactly what form the music is going to take and we can't wait to see exactly how director Dexter Fletcher is going to stretch our musical imaginations. I especially loved "The Bitch is Back" (which is actually performed by Elton as a child), "Saturday Night's All Right for Fighting", "Crocodile Rock", "Bennie and the Jets", and "Tiny Dancer." We even get a pretty accurate recreation of the video for "I'm Still Standing"
As for the performances, I would be shocked if Taron Egerton doesn't receive an Oscar nomination for his vivid and unabashed inhibiting of this leading character, a performance much richer than Rami Malek in
Bohemia Rhapsody
because he does his own singing. Egerton never attempts to mimic John, but he does capture his musical essence. Richard Madden created a steamy chemistry with Egerton as John Reid and I loved Jamie Bell as Bernie Taupin as well. A Oscar nomination should also be heading Bryce Dallas Howard's way for her unapologetic performance as Elton's hurtful mother. Sound and costumes deserve nominations as well. I will say that this musical is not for everyone and many will be turned off by its effort to be something different, but I was mesmerized by it.