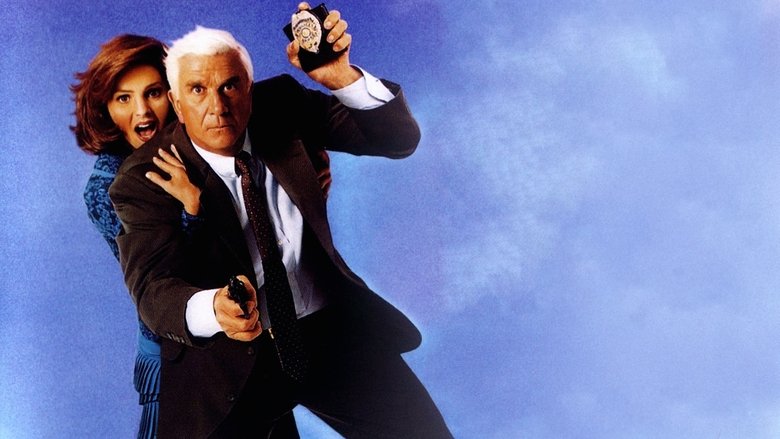 in
The Naked Gun: From the Files of Police Squad
Back in 1980, the late Leslie Nielsen redefined his acting career when he played the role of Dr. Rumac in
Airplane!
. The character was re-imagined as a cop named Frank Drebin a couple of years later for a short-lived comedy series called
Police Squad
which only ran for six episodes, but gained a cult following and was so popular it initiated a movie franchise that began with
The Naked Gun: From the Files of Police Squad
.
The people behind
Airplane
and
Hot Shots
are behind this 1988 comedy which finds Frank Drebin, an LA police detective who arrives on the scene when his partner Nordberg (OJ Simpson) is nearly murdered by a dangerous group of drug smugglers led by the evil Victor Ludwig (Ricardo Montalban). Frank must simultaneously try to bring Ludwig and his gang to justice and provide security for Queen Elizabeth, who is touring the US and will be throwing out the first pitch at a California Angels game. Even with all this, Frank manages to initiate a romance with Ludwig's attractive assistant, Jane (Priscilla Presley).
Screenwriters Jerry Zuker, David Zuker, Jim Abrahams, and Pat Proft have concocted an off-the-wall and goofy story that is a balanced combination of sight gags as well as some silly dialogue that often requires very close attention in order for the viewer to catch what's going on. As they did with
Airplane!
, the Zuker Brothers provide sight and dialogue gags at lightning speed so that if one doesn't work, the viewer doesn't have time to whine about it because there's another one coming shorty.
I loved Drebin's exchange with a dock foreman, played by Joe Grifasi, centered around a pair of twenty dollar bills. His scaling of a very tall building constructed from anatomically correct statues was very funny as was Drebin's very public trip to the bathroom during a press conference. His initial counter with the Queen was pretty funny as was Simpson's recoil from being shot during the opening scenes.
The straight-faced performances really aid in making this kind of farce work and Nielsen's stone-face is perfect for the nutty goings-on and George Kennedy, Simpson, Montalban, and Nancy Marchand as the Mayor offer fun support. Must also give a shout out to Jeanette Charles as the Queen. There are cameos along the way from Wierd Al Yankovic, Jim Palmer, Curt Gowdy, John Houseman, Reggie Jackson, Lawrence Tierney, Dick Enberg, and Dick Vitale. From the "Put your brain in check and enjoy" school of filmmaking, this was a lot of fun and am looking forward to checking out the sequels.