in
Finding Neverland
Johnny Depp received one of his three Oscar nominations for
Finding Neverland
, a sumptuously mounted biopic from 2004 that is, on the surface a look at JM Barrie, the writer who created Peter Pan, but is filled with such lush fantasy and quiet whimsy that we have to wonder exactly how much of what is presented here actually happened, though when it's all said and done, we really don't care.
It's London 1903 and JM Barrie's latest play has been a huge flop much to the chagrin of theater owner Charles Frohman, who demands Barrie come up with something else in order to keep his theater open. While trying to figure out his next project and save his deadening marriage to ice queen Mary, Barrie meets an attractive, but sickly widow named Sylvia Davis who is the mother of four young sons. Though Barrie establishes a relationship with Sylvia, it is the relationship that he develops with her sons that begins to dominate his life, bringing out the child in him and allowing the boys a father figure in their lives. Barrie is especially touched by son #3, Peter, who inspires Barrie to create a new play about a boy who knows how to fly and his best friend, a pint-sized fairy.
David Magee's Oscar-nominated screenplay is a lovely marriage of romantic drama and lilting child-like fantasy as we watch a dreamy-eyed playwright vacillate between the realities of his career and his marriage and these young boys who allow him to forget about the realities of adulthood until they actually inspire his writer's block and it's wonderful as we are let in on Barrie's process, that it manifests itself in lavish fantasy sequences involving both the boys and their mother and sometimes it seems like they actually know what's going on and love being part of it. I also love the screenplay's exploration of possible multiple meanings of Neverland.
Marc Forster, who also directed
Monster's Ball
and
Stranger Than Fiction
has mounted a very intimate story on a large and inviting canvas that is lovely on the outside and so emotionally charged on the inside that, in addition to Depp's lead actor nod and Magee's screenplay, the film received five other Oscar nominations and won the Oscar for Jan AP Kaczmarek's lush music score.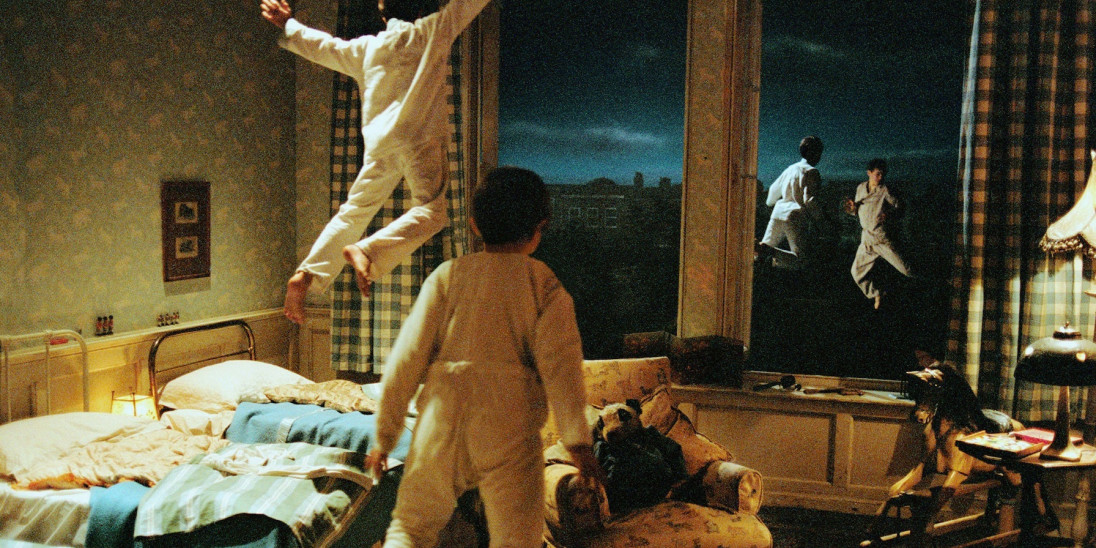 And the performances that Forster gets from his cast are nothing short of magical. For those who thought Tim Burton was the only director capable of getting a performance out of Johnny Depp need to witness his work here...Depp shows a depth and sensitivity he has never shown onscreen before and his Oscar nomination was richly deserved and the chemistry he creates with Kate Winslet as the tragic Sylvia keeps this film buzzing. Dustin Hoffman offers some funny moments as theater owner Frohman and Freddie Highmore lights up the screen as young Peter. Depp and Highmore work so well together that they were reunited onscreen the following year in
Charlie and the Chocolate Factory
. Mention also must be made of a spectacular supporting turn from Oscar winner Julie Christie as Sylvia's nasty mother. I don't know how much of what we see here is fact, but as the film washed over me, I cared less and less.