\
in
The Bad and the Beautiful (1952)


Director
: Vincente Minnelli
Writers
: Charles Schnee (screenplay), George Bradshaw (story)
Cast
: Kirk Douglas, Lana Turner, Walter Pidgeon, Dick Powell, Gloria Grahame, Barry Sullivan
Genre
: Drama
A once powerful movie producer (Kirk Douglas) who built the careers of three former friends: an actress (Lana Turner), a director (Barry Sullivan) and a writer (Dick Powell) ask them for help in making one more movie. But the three are bitter and resent the producer and want no part of him.
CR


Director Vincente Minnelli serves up a cold dish of back stabbing, money grubbing & ill manners and wraps it up with a bevy of big name stars, in a film that's all about the ugly under belly of Hollywood.
The movie starts off with three former friends of the producer meeting to decide if they will help their once friend make a movie. Then the film flashes back and tells the story of how the producer fought his way up from the bottom and became a powerful movie mogul. Along the way we see he's ruthless in his decisions, but ultimately they're the right decisions and so he and his movies become the stuff of legends. His friends too prosper thanks to him, though they don't see it that way.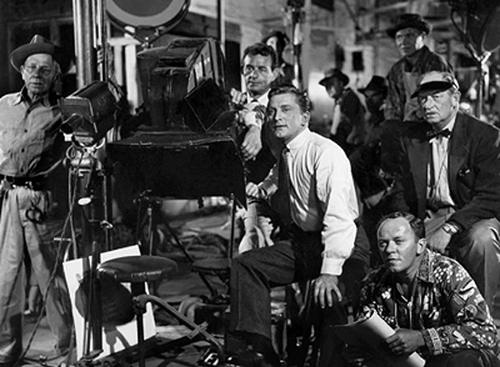 One of the best things director Vincente Minnellli did was to tell Kirk Douglas to tone down the anger and instead play the part of the power hungry producer with utter charm. And charming Kirk Douglas is! It's easy to like him even though as a Hollywood producer he can be brutal in his decisions.
Lana Turner is decent here and as she was herself a big star at the time known more for glitz & glamour than stellar acting, she actually fits her role as a glamour queen to a tee. Her and Douglas have some choice scenes together.
I also enjoyed the scenes of the early days of Hollywood with Kirk Douglas and Barry Sullivan struggling to make their first movie. It's fun to see how they went about deciding on script changes, and such.
The third story is Dick Powell as a humdrum writer who's talked into coming out to Hollywood by the producer. Powell isn't exciting on screen, but then again that's how his character was suppose to be, humdrum. Gloria Grahame plays his southern belle wife who gets stir crazy and eyes up a handsome Latin actor. Gloria won her only Oscar, for her 9 minute air time.
+