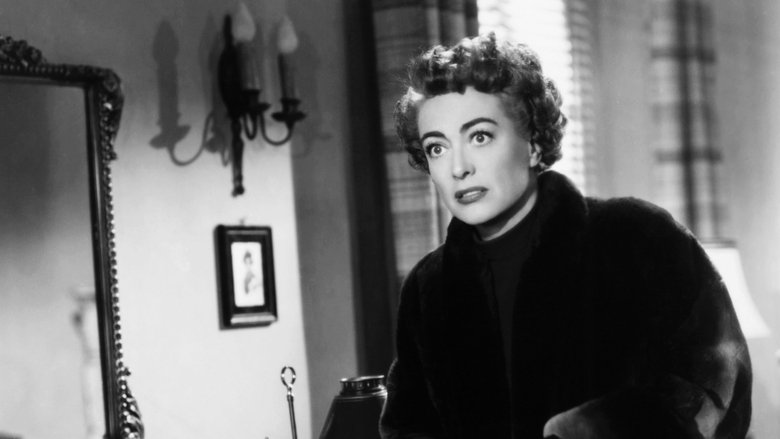 \
in
Sudden Fear (1952)


Director
: David Miller
Writers
: Lenore J. Coffee & Robert Smith (screenplay), Edna Sherry (novel)
Cast
: Joan Crawford, Jack Palance, Gloria Grahame
Genre
: Thriller Drama
A well-to-do playwright (Joan Crawford), fires the lead actor in her play, telling him he's not attractive enough to convincingly play a romantic lead. The actor takes follows her onto the train and pretends to accidentally meet her on a cross country trip. He wines her, dines her and charms the pants right off her! But lust and romance isn't what he's after. CR


Joan Crawford stars with Jack Palance in this Hitchcockian type thriller. The film starts off deceptively melodramatic and one is lured into a sense of watching a romantic drama, much like Joan is lured into a romance with a less than honest man. Waiting in the wings is the other girlfriend Gloria Grahame who hatches a scheme to get Joan's money before she gives it all way to charity.
Joan Crawford is an acquired taste either you like her or not. I liked her, she always gives her acting all to any movie she's in. Here's she accidentally over hears a plot to do her harm and she has a case of Sudden Fear!
Gloria Grahame is good here, as often is the case in her films she has a supporting role, but makes the most of it. Jack Palance is properly imposing, just look at how his stoic figure towers over the rest of the cast.
The film ends in a bang. A fun film for a cold winter's night.